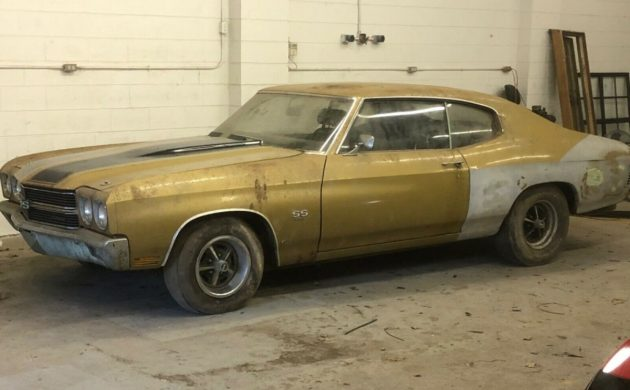 '70 Chevelle SS396 Discovered After Sitting For 46 Years – The Only Champagne Gold L78 In Existence
Referring to any classic car as the ultimate barn find is a pretty bold call. To qualify, the vehicle would need to be something exceptional. It is the claim being made by the owner of this 1970 Chevelle SS 396, so we probably need to take a good look and see how it stacks up against that claim.
When you look at this Champagne Gold Chevelle, it is incredible to think that it was laid low by a minor incident early in its life. The original owner drove the vehicle until 1974. At that point, he was involved in a fender bender. He managed to hit a street sign and inflicted some minor damage to the driver's side rear quarter panel.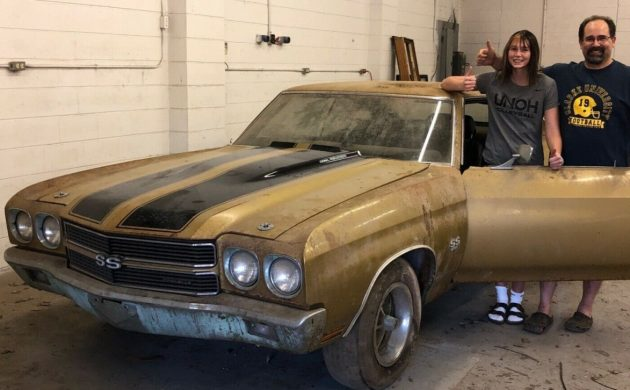 Repairing this should have been a straightforward proposition, and you can see the evidence of the owner's attempt in the first photo. The visible Bondo marks the single spot that received the accident damage. Once it went into his workshop for this repair, that's as far as it ever went. So, some minor cosmetic damage has seen the Chevelle parked for the last 46-years.
The storage environment appears to have been pretty good, but not perfect. As you can see, the underside of the Chevelle wears a significant coating of surface corrosion. However, rust has not managed to penetrate any of the steel. That means that the floors and frame are structurally sound.
The Chevelle is a numbers-matching car, and for Chevelle enthusiasts, it represents a desirable package. What we find is a 396ci V8, an M21 close-ratio 4-speed transmission, a Posi rear end, and power front disc brakes. This isn't any old 396, because this is 1-of-2,144 Chevelle's equipped with the 375hp L78 engine.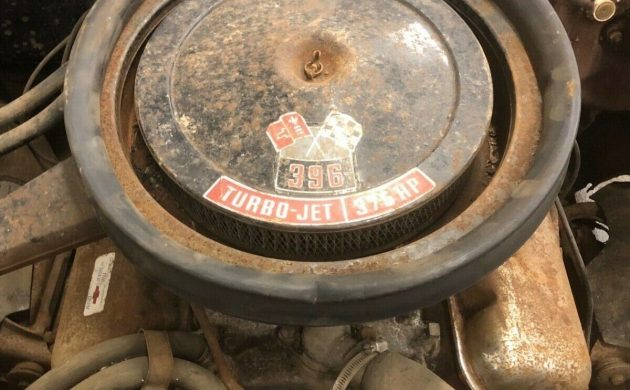 The interior of the Chevelle is a mixture of both good and bad news. The seats, door trims, dash, and console all appear to need nothing more than a good clean. The carpet has been removed by the current owner as it was the victim of rodent infestation. Apart from the console and bucket seats, the Chevelle scores an AM radio with the optional rear speaker.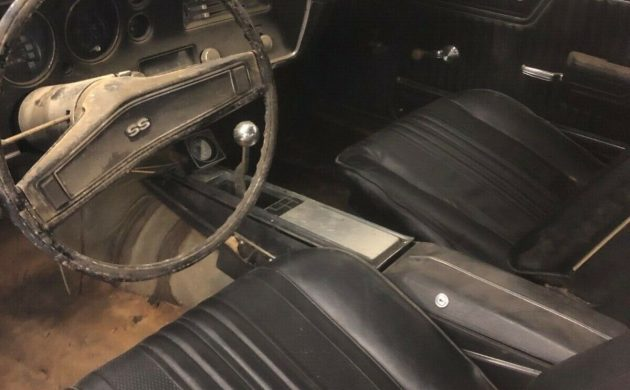 So, is this 1970 Chevelle SS 396 the ultimate barn find? That is a big call to make. It is definitely 1-of 24,567 Chevelle's finished in Champagne Gold, and 1-of-2,144 to be optioned with the L78 engine.
The owner states that it might be the only Champagne Gold L78 in existence, which is also a possibility. However, confirming it could involve a bit of homework. Source: barnfind.com