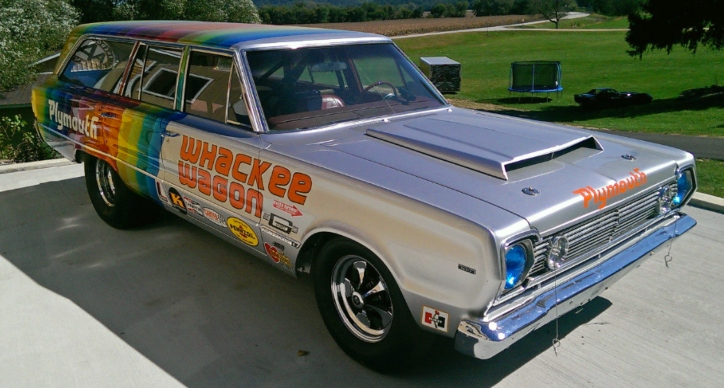 One-of-Two Historic '66 Plymouth HEMI Belvedere Wagon Race Car
Today we are going to take a closer look at one historic factory built Mopar racer. A 1966 Plymouth HEMI Belvedere Wagon delighting everyone with its cool paint job while intimidating its opponents with the Big Elephant hiding under the hood. We're looking at a Factory Drag Car 1966 Plymouth Belvedere I Station Wagon in Multicolored Paint. The car comes with the 426 CI "Hemi" V8 engine.
The car's Owner is Don Moats. Don's had this car since 2015. This is Lee Smith's Factory Built Drag Car called the Whackee Wagon and there were only two station wagon's that were built with a 426 Hemi engine, and this is one of them.
And boy, did they race! The Mopar Hall of Famer Lee Smith got this featured here four-speed manual wagon – courtesy of Chrysler sponsorship – and thrashed competitors in the Super Stock quarter-mile runs in the 60s and 70s. Liveried in a colorful and unmistakable rainbow pattern, the Wagon made a name for itself through the decades.
Yes, it sounds like the blast from the past that it is, and that distinguishable roar of the engine is one majestic tribute to the car's untamed raw power. The owner has a photo album of the Belvedere's glory days at the dragstrip. We can see the wheelie takeoffs the unruly HEMI was capable of pulling from the awkward-looking, devastatingly fast Belvedere I body.
The 1966 Plymouth Belvedere I Wagon was a lovely grocery-goer for most of the car's production run of 4,726. However, two of those wagons were very different inside – both in the cabin and (especially) under the hood – and gained quarter-mile fame at the height of the muscle car golden age.
To hint at exactly how fast it was, we'll drop just two figures here: 9.90 and 10.79.
Source: Youtube/Lou Costabile