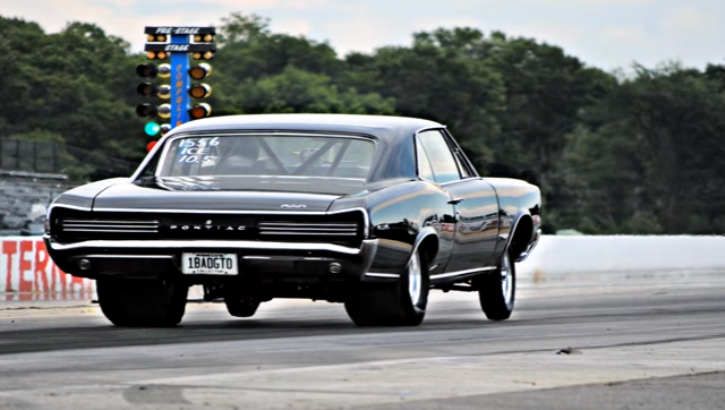 "1BadGTO" – 600hp Pro Street '66 Pontiac GTO Racing, Cruising, Dyno
A Pro Street 1966 Pontiac GTO is a classic muscle car that has been modified for high-performance driving, such as drag racing or street racing. The term "Pro Street" refers to a style of modification that emphasizes power and speed, while retaining the street-legal status of the car.
This typically involves modifications to the engine and drivetrain, as well as the suspension and braking systems, to improve the car's acceleration and top speed. The GTO was a popular muscle car produced by the Pontiac division of General Motors from 1964 to 1974, known for its powerful engines and sporty styling.
With its black paint, roll cage inside, fat tires at the rear and 572 cubic inch motor running on pump gas putting 600 horsepower to the wheels this Pro Street 1966 Pontiac GTO a.k.a "One Bad GTO" has super mean V8 voice that seems like it can be the Devil's ride.
Seeing a Pontiac GTO competing at drag racing events is not something that happens often, so when I come across a radical race car like this one I definitely have to share it with you.
Check out the Tinman 2 Kustoms feature film to see this '66 GTO doing some street cruising, dyno testing and of course last but not least some drag racing action.