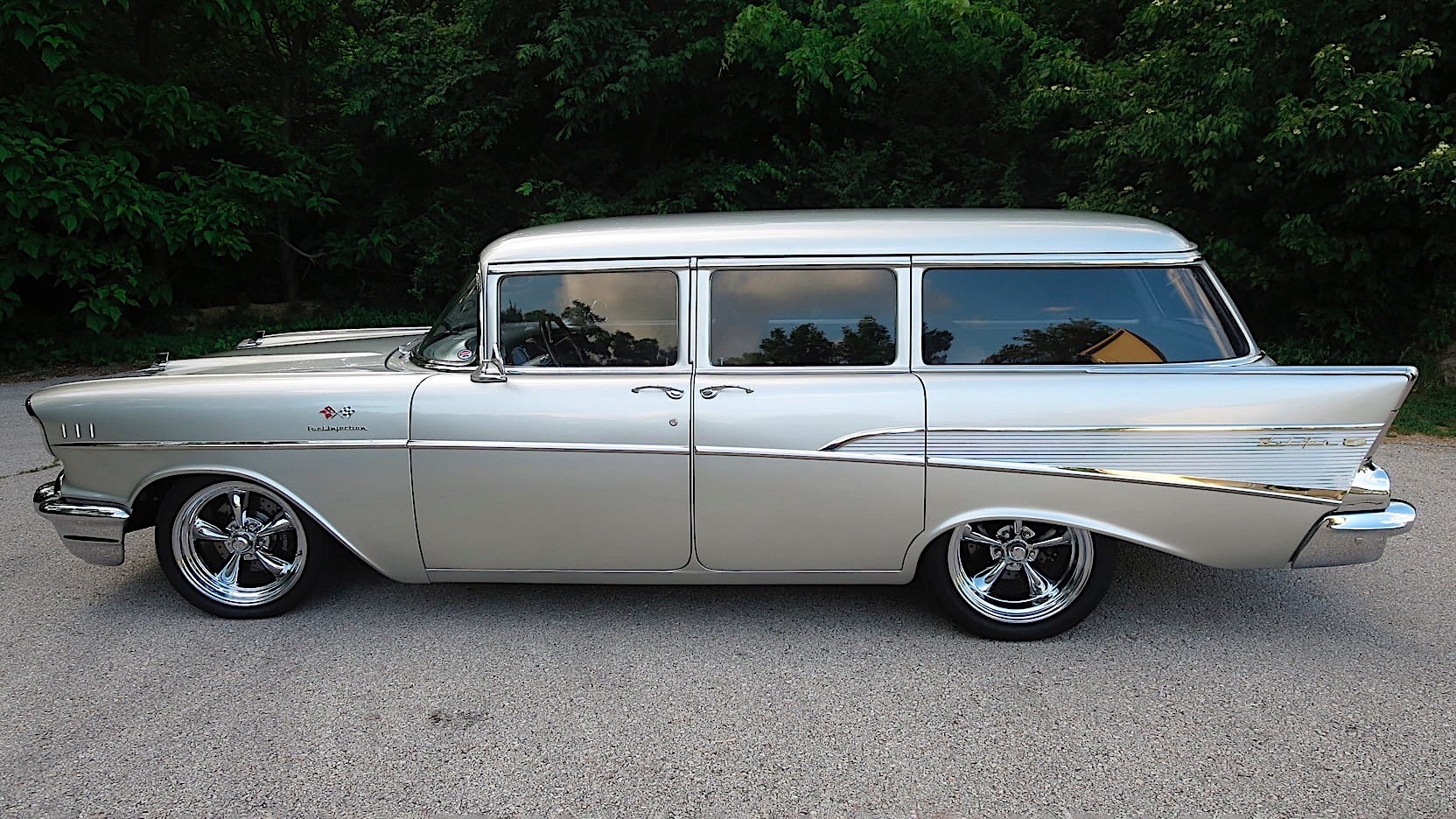 The Modernized 1957 Chevrolet Two-Ten Townsman with a Potent LS3 V8 Engine
The 1957 Chevrolet Two-Ten Townsman holds a special place in automotive history as one of the last models produced under the Townsman nameplate. Today, we take a closer look at a heavily modified and modernized version of this iconic wagon. With its sleek Millennium Silver exterior, meticulous trim upgrades, and a host of contemporary features, this Townsman exemplifies a harmonious blend of classic design and modern innovation.
Adorned in a striking Millennium Silver finish, this 1957 Chevrolet Two-Ten Townsman commands attention with its cold and elegant appearance. The meticulously applied metal-look exterior trim upgrades ensure that it can easily be mistaken for its upscale counterpart, the Bel Air. However, the true magic lies beneath the surface, where a Roadster Shop chassis awaits to enhance the wagon's performance and handling. Adjustable coilover shocks, a 4-link rear suspension, and reliable Wilwood braking hardware combine to create a smooth and confident driving experience.
Stepping inside the modernized Townsman, one is greeted by a custom Thunder Road tan and black interior that exudes both luxury and comfort. The unique entry is facilitated by scissors doors up front and suicide doors at the rear, reminiscent of a bygone era. The focal point of the cabin is undoubtedly the large bucket seats, providing ample support for both driver and passengers during long journeys. Drawing inspiration from contemporary designs, the center console, borrowed from a 2019 Chevrolet Volt, seamlessly integrates modern convenience.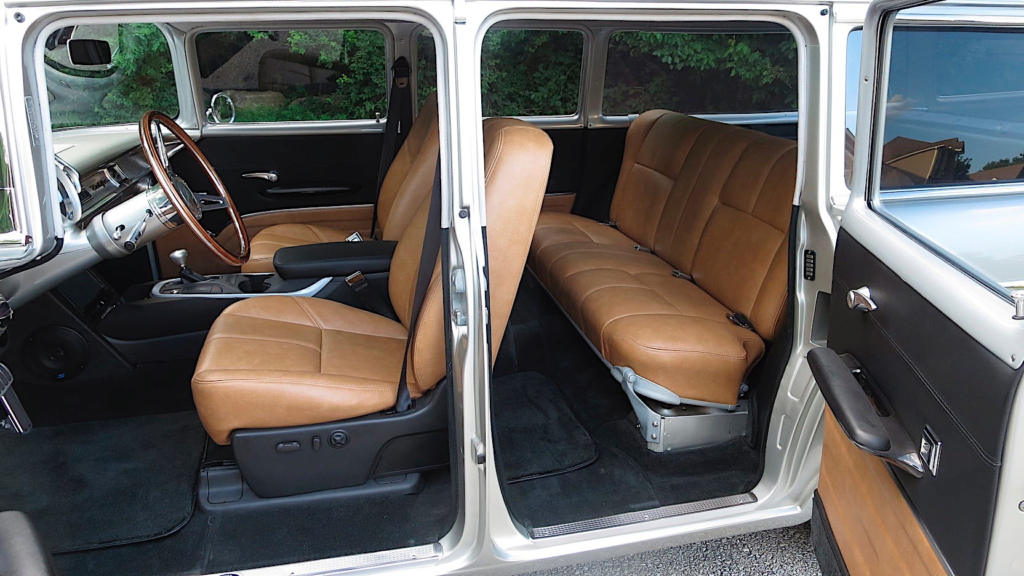 While preserving its timeless aesthetics, this 1957 Chevrolet Two-Ten Townsman also embraces the technological advancements of the 21st century. Equipped with a Dakota Digital VHX instrument cluster, the wagon ensures that vital information is presented with modern precision and clarity. Entertainment and connectivity are taken to new heights with the inclusion of an Alpine 9-inch touchscreen display, delivering an immersive audio experience with HD stereo and MP3 capability. Additionally, the built-in navigation system offers seamless guidance for any journey.
Recognizing the importance of safety and security, this modernized Townsman incorporates advanced features for a secure and confident driving experience. The inclusion of a Thinkware 4K camera allows the driver to have a clear view of the road ahead, ensuring awareness and minimizing risks. Furthermore, a 2K camera discreetly captures the rear surroundings, enhancing visibility and assisting with parking maneuvers.
Beneath the hood of this modernized 1957 Chevrolet Two-Ten Townsman lies a hidden secret. The unnamed builders of the 210 have ingeniously concealed a crate LS3 V8 engine, capable of producing an impressive 485 horsepower. To handle this raw power, the underpinnings of the wagon have been carefully upgraded. A Holley Terminator X Max ECU ensures precise engine control, while an automatic transmission provides smooth and effortless gear shifts.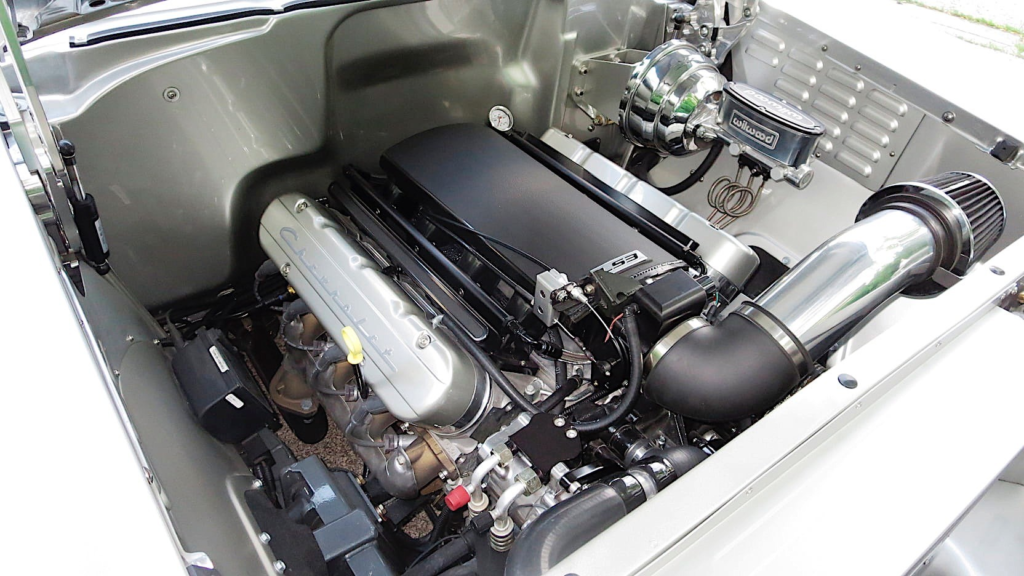 As it gracefully combines the best of the past and present, this unique wagon not only pays homage to its roots but also demonstrates the boundless possibilities when tradition meets innovation.