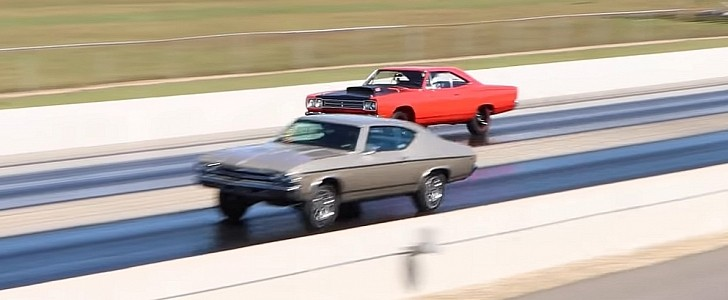 1969 Plymouth Road Runner A12 vs 1969 Chevrolet COPO Chevelle – Very Good Matchup
First car is a 1969 Chevrolet Chevelle COPO. The other a 1969 Plymouth Road Runner A12. The COPO Chevelle has a L72 427 V8, while the Road Runner A12 has a 440-6 barrel V8 (the term six-pack is reserved for Dodge products).
The L72 427 in the COPO Chevelle was rated 425 horsepower, and the 440 in the Road Runner was rated 390 horsepower. The 1969 Chevelle has a TH400 3-speed automatic transmission, while the 1969 Road Runner has a TorqueFlite 3-speed automatic transmission.
Rear gearing in the Road Runner A12 is 4.10, which is the only option from the factory. The Chevelle COPO also only came with 4.10 gears, but our featured car has an upgrade to a 4.33 set. The weight of the A12 Road Runner with driver is 3784 pounds, and the Chevelle COPO is slightly heavier at 3814 pounds. There were only 1412 total A12 Road Runner produced, specifically 375 in a hardtop with an automatic transmission.
The COPO chevelle is even more rare with only 323 produced, 96 of those having an automatic transmission. Speed and Supercar Magazine tested an A12 Road Runner in June 1969 and with Ronnie Sox behind the wheel (and the air cleaner removed) it ran 12.91 seconds @ 111 mph. This was a prototype vehicle with some headwork completed and likely had a compression ratio of 11:1. Super Stock and Drag Illustrated tested a Yenko COPO Chevelle in 1969 and it ran 13.36 seconds @ 108 mph.
Source: Youtube/Cars And Zebras