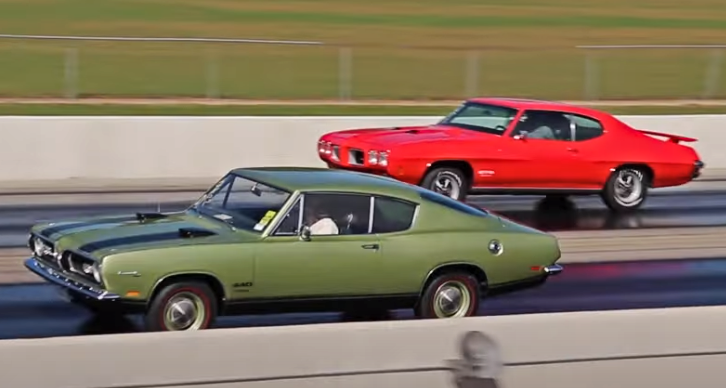 Plymouth Cuda 440 Rated 375HP vs. Pontiac GTO 455 Rated 360HP Drag Racing
Here is another epic video from the Pure Stock Drags annual event held at Mid Michigan Motorplex. This time we have a rare 1969 Plymouth Barracuda that came from the factory with the 440 Cuda package paired with Torqueflite automatic and 3.91 geared rear end.
The 440 Cuda competitor is a 1970 Pontiac GTO powered by 455 V8 mated to Turbo 400 3-speed transmission and set of 3.55 rear gears. The Mopar certainly has the advantage in terms of power and weight, but still watching those classics run down the 1/4 mile is a treat.
The Cuda 440 was rated 375 horsepower. The GTO 455 was rated 360 horsepower.The Plymouth Barracuda weighs 3604 pounds including driver. The GTO weighs-in at 4024 pounds with driver.
There were only 340 total 1969 Plymouth Barracuda Cuda 440 cars produced. 1986 GTOs were produced in 1970 with a hardtop and the 455 V8.
Play the Cars And Zebras video to see the 1969 Barracuda Vs 1970 GTO drag race:
Source: Youtube/Cars And Zebras