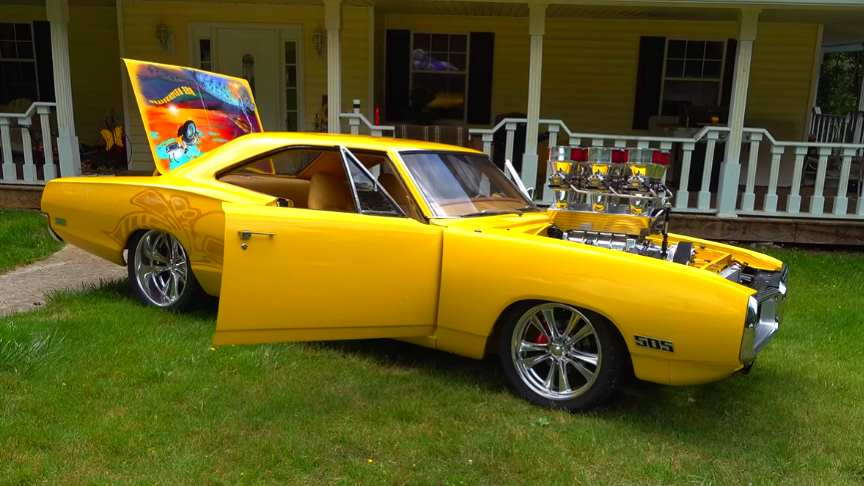 1970 Dodge Coronet Super Bee "Bee Resurrected" 505 Big Block 12 Pack – The Owner Bought it When He Was 15
Obviously this custom 1970 Dodge Super Bee is one of those builds that not everyone will enjoy, but despite all the mods done to it, the Mopar can be easily brought back to its factory appearance. The owner bought it when he was 15-year old, it's his first car, so he can always decide to transform it back to what it looked like in the 70's.
The 1970 Dodge Super Bee was originally a 383 powered 4-speed muscle car that has been transformed into this hot rod called "Bee Resurrected". It now sports a Dyer's blown 440 Big Block bored and stroked to 505 cubes topped with a 12-pack. So if you don't like the way it looks, I'm sure you're going to love the way that monstrous engine sounds.
"This 1970 Dodge Coronet Super Bee is just getting finished so it still needs a little tuning..And the reason that Horse Power numbers were not available at the time of filming of this video…But I think it is safe to say there will be enough horse power to get it down the road…It is a Super Bee..So it is covered in the appropriate yellow paint…"
"It has some custom painted Super Bee logos on the rear quarter panels painted in a gold color…They also used a pearl paint to put some Honey Comb designs throughout the build…There is a BIG MOPAR M on the roof using the same colors….The other paint feature is on the rear deck lid….A mural of the history of this 1970 Dodge Coronet Super Bee…"
The interior is all custom high end vinyl and the style and colors they chose work well with this build…This 1970 Dodge Coronet Super Bee is one of a kind for sure….Check it out!!
Source: Youtube/ScottieDTV