1970 Dodge Challenger 440-6 390HP Drag Racing 1969 Chevy Chevelle 396 L89 375HP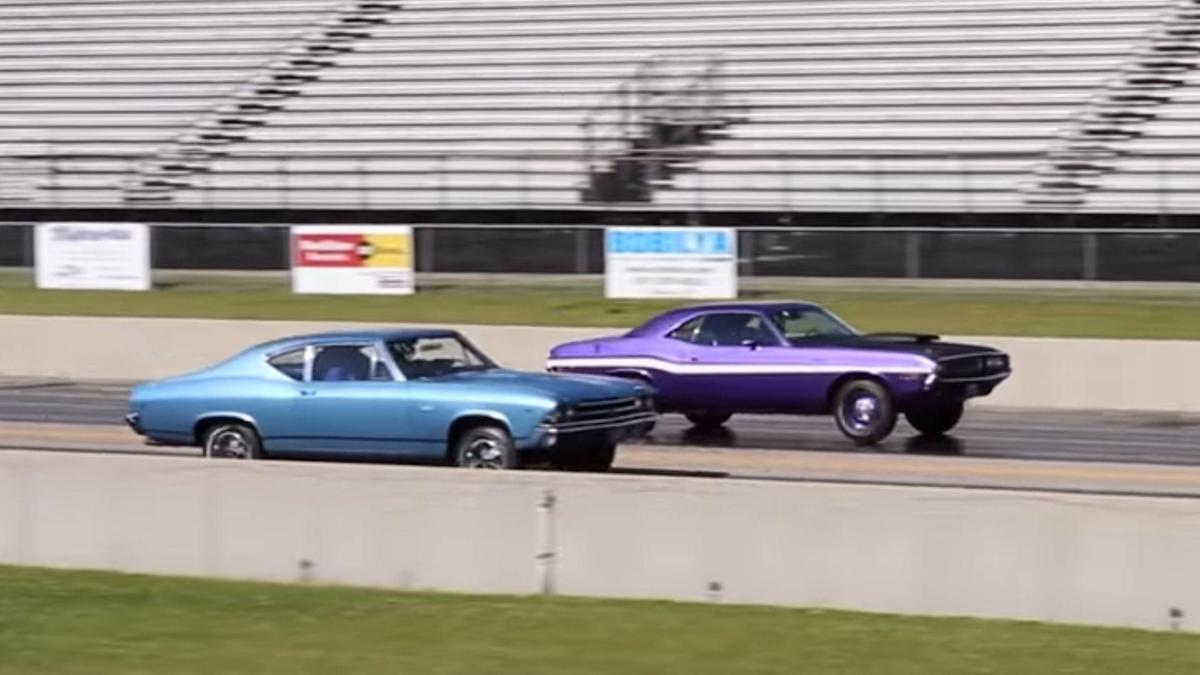 Today we have a beautiful 1970 Dodge Challenger R/T sporting a 440 Six Pack power plant paired with 727 TorqueFlite and 4.30 rear gears lining up against a stout 1969 Chevy Chevelle SS fitted with the limited production 396 L89 engine mated to TH400 3-speed automatic and aggressive 4.88 geared rear end.
The Chevy Chevelle Super Sport has a very aggressive 4.88 rear gear, while the Dodge Challenger R/T has a set of 4.30 rear gears. Weight of the Chevy Chevelle SS including driver is 3690 pounds, while the Dodge Challenger is 3640 pounds.
Both cars are rare, there were only 400 L89 Chevrolet Chevelles produced in 1969, and only 793 Dodge Challenger R/T 440-6 with automatic transmissions in 1970. Original testing by Hot Cars Magazine 2/1969 showed a 375hp Chevelle (L78 iron heads) run the 1/4 mile in 14.07 seconds @ 101 mph.
However, they mentioned the stock Muncie shift linkage was terrible, and with a better option it should easily run in the 13s. The Challenger R/T 440-6 ran a 14.54 seconds @ 98 mph when tested by Hot Rod magazine 11/1969; it featured an automatic transmission and a 3.55 rear gears.
Source: Youtube/Cars And Zebras