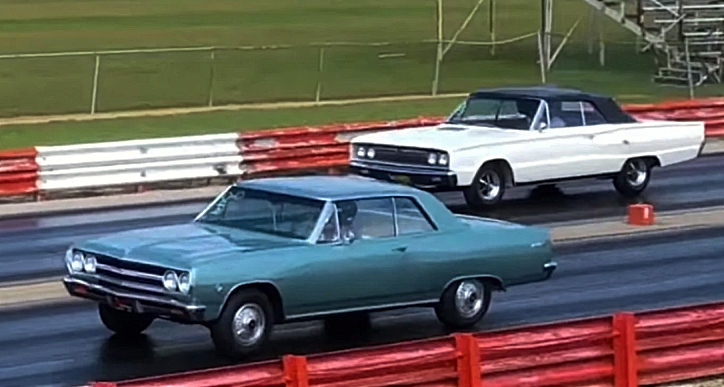 Fun 1/4 Mile Race – '65 Chevy Malibu 327 with 300HP Takes on '67 Dodge Coronet 440 with 370HP
We are back to the Mid Michigan Motorplex for another fun 1/4 mile drag race brought to you by Cars and Zebras. This time we have a 1965 Chevelle Malibu lining up against a 1967 Dodge Coronet R/T.
While the Convertible Mopar packs a bold 440 Big Block, it has couple of disadvantages. It is 600lbs heavier and its rear gears are not great for drag racing either. The owner also shares that as a California car, the 1967 Dodge Coronet came with the Cleaner Air Package losing around 10hp when compared to the smaller CFM AFB carb.
The lighter 1965 Chevelle Malibu SS sports the high revving L74 327 small block, which enthusiasts call the "Mighty Mouse" for a reason. The power is transferred through a 2-speed Powerglide automatic tranny and 3.55 geared rear end. A pretty good combo compared to the Mopar's TorqueFlite automatic and 2.94 geared rear.
Check out the video and remember, it's not about being a fair, but a fun 1/4 mile race.
Source: Youtube/Cars And Zebras