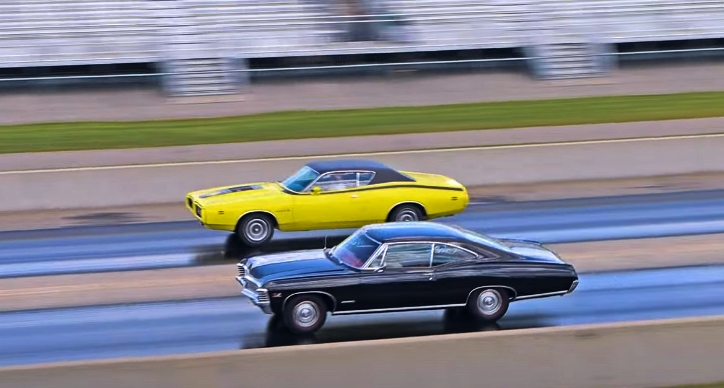 425HP '71 Dodge Charger 426 HEMI vs. '67 385HP Chevrolet Impala SS 427
It's time for some more awesome 1/4 mile action. Again we have a couple of legendary muscle cars in a very close race, which makes it a real treat regardless if you're a Chevy or a Mopar person. A 1971 Dodge Charger powered by 426 HEMI paired with 727 Torqueflite takes on a 1967 Chevrolet Impala SS fitted with 427 V8 mated to a 4-speed manual. Hit the play button and enjoy the ride.
First car is a 1971 Dodge Hemi Charger. The other a 1967 Chevrolet Impala Super Sport. The '71 Hemi Charger has a 426 Hemi V8, and the Impala SS has a 427 V8. The '67 Chevy Impala was rated 385 horsepower, while the 1971 Dodge Charger Super Bee Hemi was rated 425 horsepower.
The Hemi Charger has a 3-speed automatic transmission (TorqueFlite). The Impala has a 4-speed manual. Rear gearing on the Chevy Impala SS427 is a 4.56, and it's a 4.10 set in the Hemi Charger. Curb weight for the 1967 Chevrolet Impala Super Sport 427 is 4103 pounds, and the 1971 Dodge Charger Super Bee hemi is 3979 pounds.
There were only 13 1971 Dodge Charger Super Bees equipped with a hemi and an automatic transmission. There were over 73,000 Impala Super Sports made in 1967 with the V8. In December 1970 Motor Trend tested a 1971 hemi Charger and it ran 0-60 in 5.7 seconds and the quarter mile in 13.73 seconds @ 104 mph. The Impala SS427 was tested by Car Life in May of 1967, and with an automatic transmission and 3.07 rear gears it ran 0-60 in 8.4 seconds and the quarter mile in 15.75 seconds @ 86.5 mph.
Rules: Must be factory correct for the year, model, and horsepower claimed. Dealer installed engines and dealer performed engine modifications are not allowed. Casting numbers must be correct for the year and horsepower claimed including intake manifold, heads, and exhaust manifolds.
What's your thoughts? Who's going to win the race?
Source: Youtube/Cars And Zebras