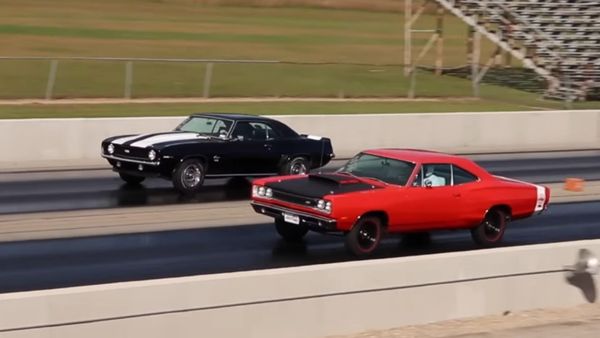 1969 Dodge Super Bee A12 drag racing 1969 Chevrolet Camaro Super Sport 396
'69 Super Bee Races '69 Camaro SS
The 1969 Chevrolet Camaro SS is packing some serious heat with an L78 396 pushing 375-horsepower and 415 lb.-ft. of torque. Mated to that is an automatic transmission, eliminating the potential for driver error in gear transitions.
With 4.10 rear gears, this car is made to scoot in a hurry. What's more, this muscle car tips the scale at a mere 3,526 lbs. with the driver inside.
However, the 1969 Dodge Super Bee A12 is no pushover, thanks in no small part to the 440 V8 6-pack. That mill is pushing a mighty 390-hp and 490 lb.-ft. of torque, outgunning the Chevy, but not by much.
Like the Camaro SS, this Mopar has an automatic transmission as well as 4.10 rear gears. Things take a turn for the worse when it comes to weight, because this Super Bee is 3,812 pounds, so it's a might bit more portly than the Chevy.
So which do you think is going to win this showdown? Will it be the fire-breathing Mopar or the hard-hitting GM? Check out the video to see the results.
Source: Youtube/Cars And Zebras