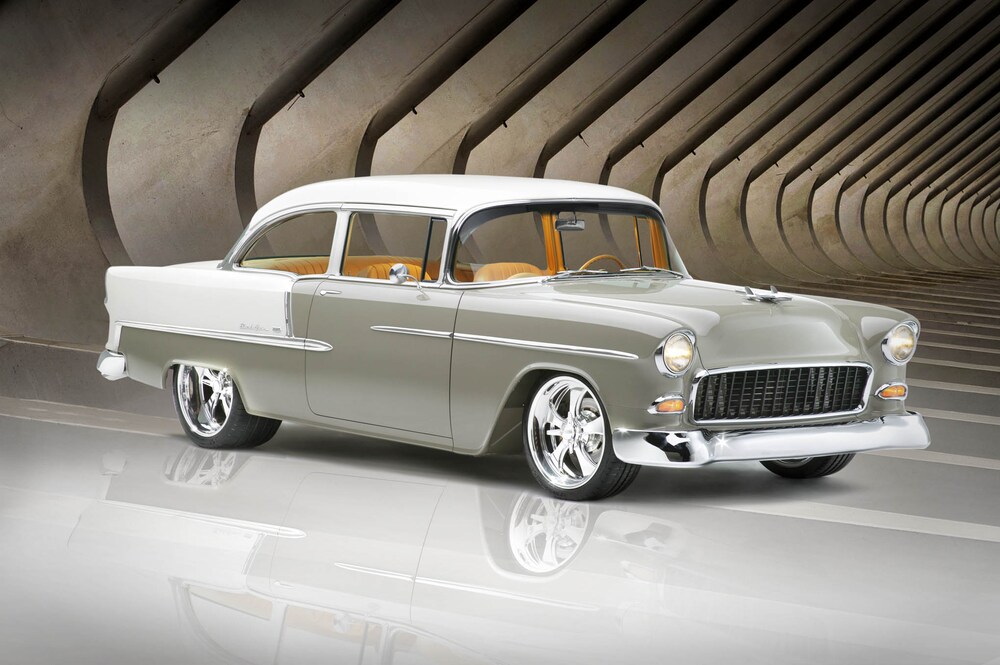 Done in Just 10 Months – 1955 Chevy Pumps LS3 Power and Rides on an Art Morrison Chassis
Gary Holyoak of Cedar City, Utah, grew up with his 1955 Chevy Bel Air "post" but back then it belonged to Dad and it was his plan to drag-race the car. Life has a way of changing our best laid plans and such was the case for this 1955.
It sat for decades in the family carport while the "family" grew, and then came storage, and it wasn't until 2011 that Gary took over the project. It was Gary's intent to resurrect the 1955 and bring the car back to all of its former glory—and then some. Gary had reason to want the build to happen quickly but also wanted a hot rod that would answer both of their wants and dreams.
n the car-building world projects of this scope take time. And 10 months is usually the "warm up" but with this project that was the timeline and thus that's the way it had to be! Gary sought the talents of Dave and Charity Kindig of Kindig-It Design in Salt Lake City, Utah. Couple their leadership and the talents and efforts of the Kindig staff and Gary and his dad had their 1955 the way they always wanted.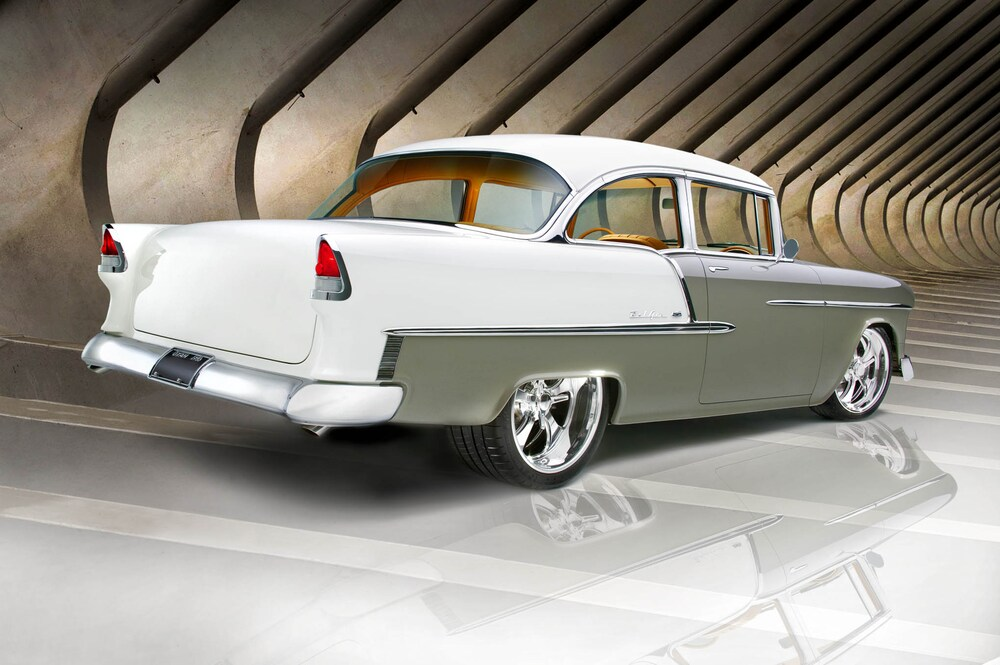 The two-door post Tri-Five maintains stock sheetmetal with a few subtle yet effective changes, such as a black powdercoated grille, shaved gas door, and trunk trim and 3-inch tubs for added wheel/tire clearance.
The stock front and rear bumpers were welded into one piece while the lighting remained stock. The outside mirrors come from Billet Specialties and the interior mirror is 1955. The PPG two-tone Classic Clay and Toyota white was sprayed on by Kindig-It over their own body- and paintwork.
Inside there is a great deal to look at yet the basic 1955 dash remains. To it Dakota Digital analog gauges are fit into the factory pod, a Kicker stereo is housed in the original factory radio location, and the wiring chores fell to an American Autowire system put in place by Kindig-it Design.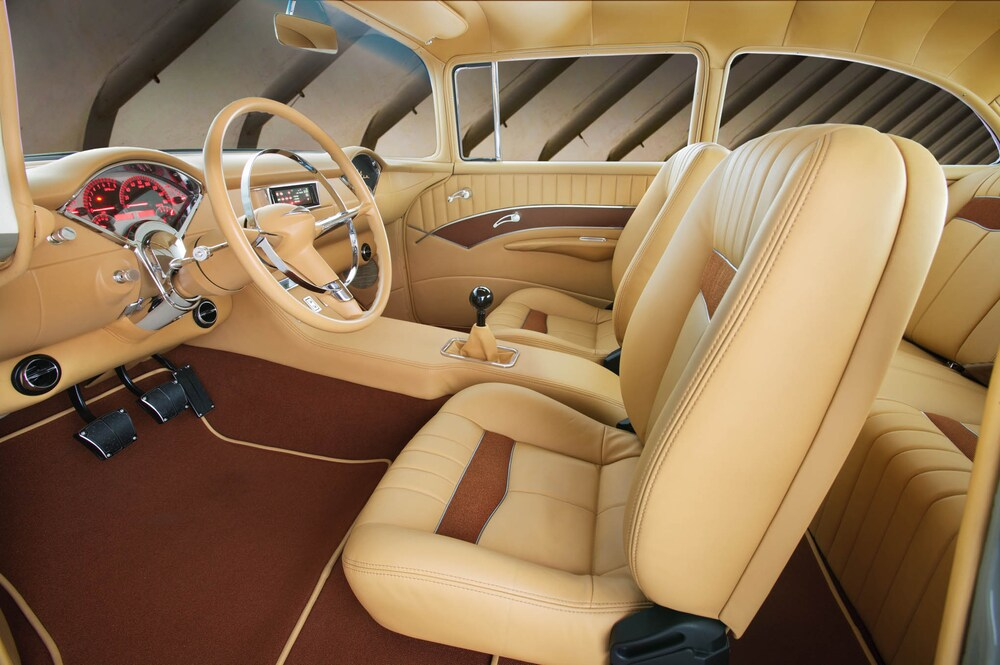 Underneath the copper-colored carpeting is a liberal covering of Dynamat to keep out unwanted sounds and heat. Resting just above the carpeting is the pedal assembly from Clayton Machine.
The factory chassis was discarded in favor of the Art Morrison Enterprises Tri-Five chassis equipped with AME lowered spindles, rack-and-pinion steering, Strange coilover shocks, Wilwood 13-inch rotors in front and calipers, and an ABS Power Brake Inc. billet master cylinder.
Moving this hot rod down the road is a 435hp Chevrolet Performance LS3 (6.2L) crate motor topped with a Kindig-It Design custom-fabricated air cleaner and exhaust system flowing through Flowmaster mufflers along with AME headers. A Billet Specialties Tru Trac serpentine belt system accessorizes the engine along with Offenhauser valve covers fitted via Taylor adaptors with cooling chores falling to a Be Cool three-core aluminum radiator. Moving the power rearward is a Tremec TR-6060 six-speed using Chevy clutch package.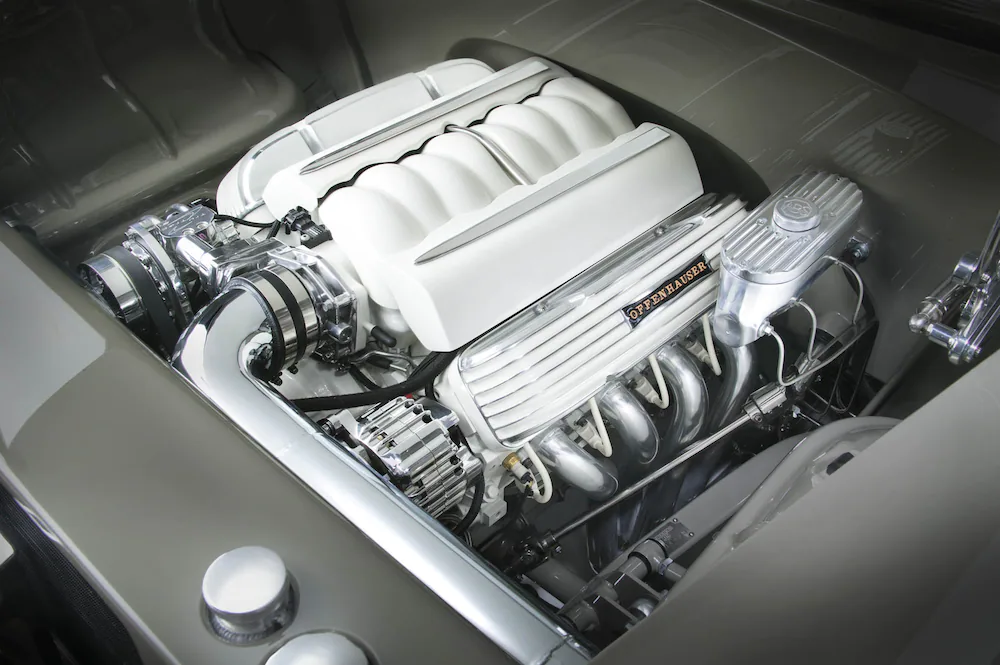 The goal was 10 months for the build and the 1955 made it with incredible results.//www.motortrend.com