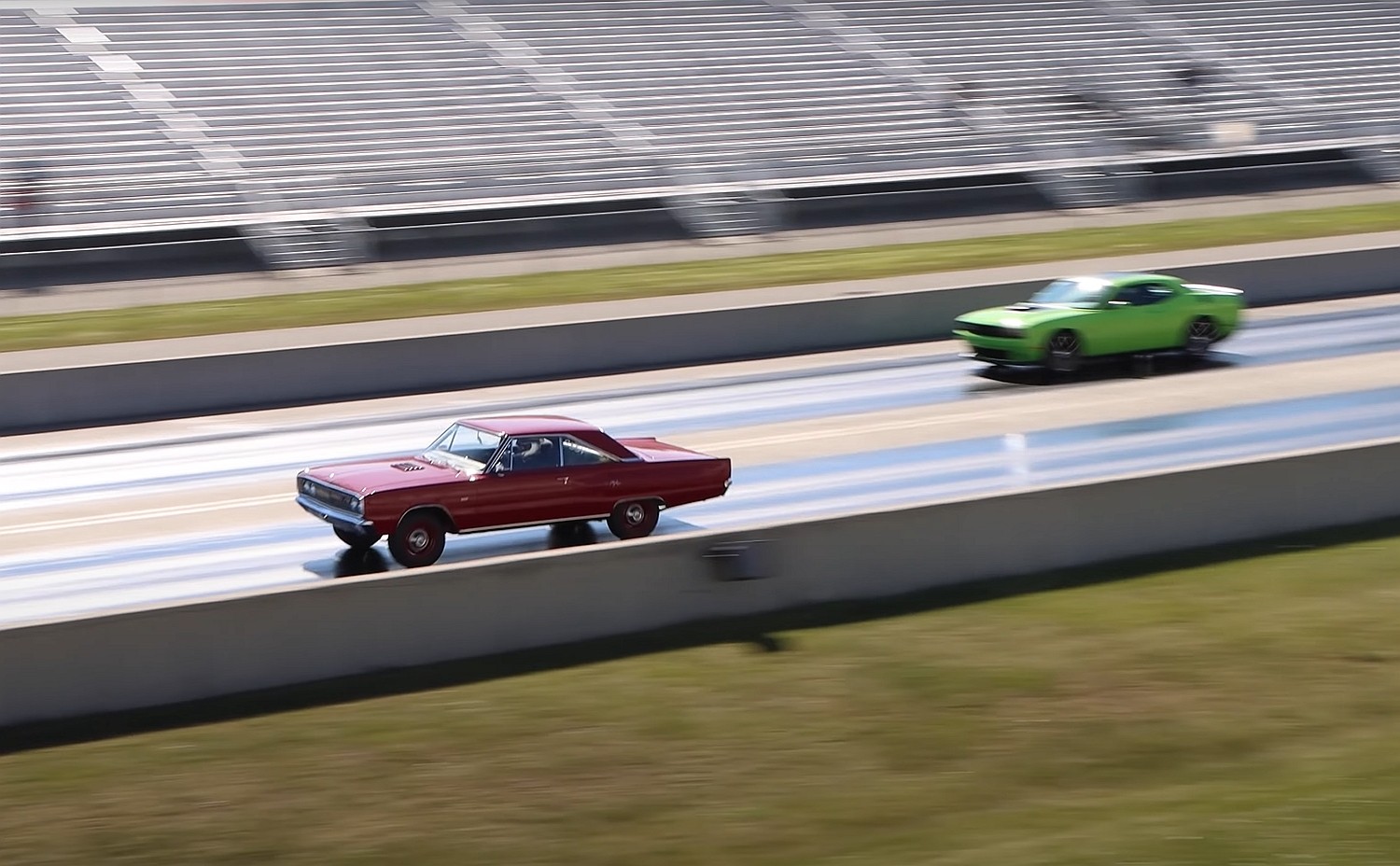 Modern Dodge Challenger 392 Drag Races 1967 Dodge Coronet Hemi – Regrets It Instantly
Dodge Challenger 392 Scat Pack vs 1967 Dodge Coronet RT Hemi | STOCK DRAG RACE
It took quite a few decades for muscle cars to recover after the early 1970s regulations put an end to high-performance V8s, but now we have access to the most powerful American vehicles ever built. But are modern muscle cars quicker than old-school classics at the drag strip?
Well, it depends on which cars we're talking about. The Dodge Challenger Hellcat is definitely quicker, while its Demon sibling is potent enough to smoke everything out there but full-fledged dragsters and range-topping EVs. But how about the Challenger 392 Scat Pack? Can Mopar's 485-horsepower coupe outgun a Hemi-powered classic like the Coronet R/T? Let's look at the numbers first.
As its name suggests, the 392 Scat Pack comes with a 392-cubic-inch (6.4-liter) Hemi V8 under the hood. The mill cranks out 485 horsepower and 475 pound-feet (644 Nm) of torque, enough to push the muscle car toward the line in around 12.5 seconds.
As for the stunning 1967 Coronet R/T you're about to see below, it also packs a Hemi, but we're obviously talking about the iconic 426-cubic-inch (7.0-liter) V8. Rated at 427 horses and 490 pound-feet (664 Nm) of twist, it's not far behind the 392 Scat Pack. However, it's difficult to estimate how powerful the 426 is by comparison.
The result may also have to do with the fact that this Coronet has been with the same owner since day one. He bought it specifically for drag racing and he obviously has the experience to make it run as quick as possible. By the way, this Coronet is rare too, as Dodge built only 162 cars with the 426 Hemi and the three-speed auto in 1967.
Source: