1970 Ford Torino Super Cobra Jet vs 1969 Chevy Yenko Camaro 427 – Pure Stock Muscle Car Drag Race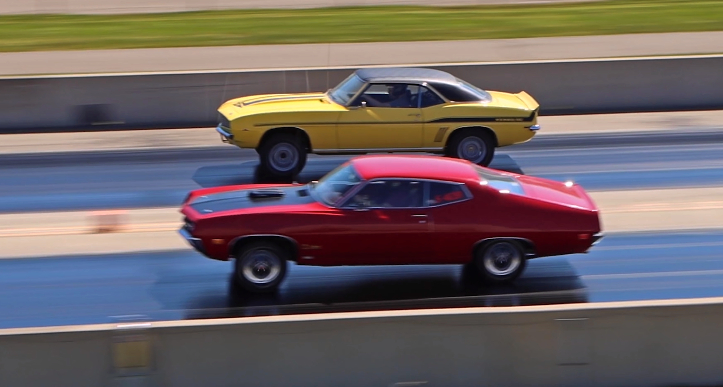 Today we have a very exciting 1/4 mile drag racing video brought to you by Cars and Zebras.
Couple of legendary American muscle cars meet at the US 131 Motorsports Park in Michigan for a single time trial heads up race.
First car is a 1969 Chevrolet Camaro Yenko. The other a 1970 Ford Torino Super Cobra Jet. The Yenko Camaro has a 427 V8, while the Ford Torino has a 429 V8. The Yenko Camaro was rated 450 horsepower compared to the Torino SCJ's 375.
A 1969 Chevy Yenko Camaro powered by the mighty 427 V8 paired with 3-speed automatic and 4.33 geared rear end lines up against a 1970 Ford Torino fitted with bold 429 Super Cobra Jet mated to a 4-speed and 4.57 rear gears.
The fascinating 1/4 mile drag race is even more entertainng with the commentary by Cars And Zebras. Check it out and let me know what are the factors determining the winner.
Source: Youtube/Cars And Zebras