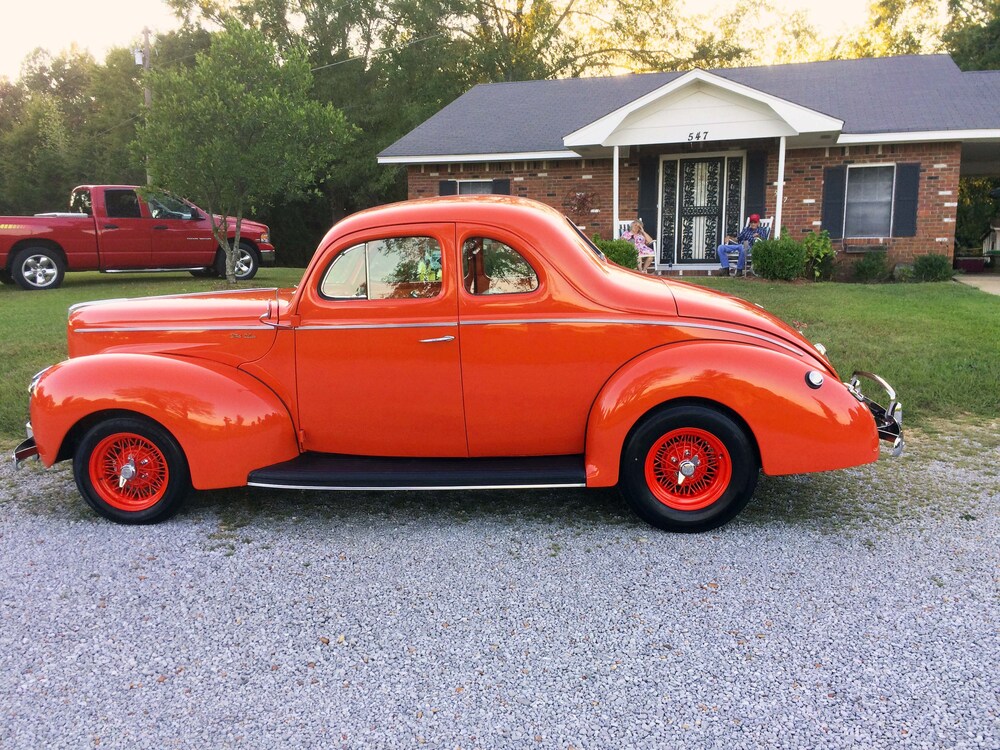 Sons Built This '40 Ford Coupe In Response To A Father's Wish Diagnosed With Cancer
In the town of Nettleton, Mississippi just south of Tupelo lives Jimmy Burroughs, 80 years old whose bright orange 1940 Ford coupe has to be the most famous car in town. Mark, Jimmy's son, sent us the photos and shared with us the story about the family built street rod.
"Daddy bought it in the early '80s. He, my older brother, Ricky, and I drove the fire out of it for around 10 years until we decided to tear it down and put power steering and power brakes on it. It seemed like the more we tore down, the more we needed to fix. So, we tore it down into a million pieces.
Nobody could steal this car. We didn't even know where all the parts were. Time went on and the car sat in pieces for many years. We just weren't working on it."
When the old man got diagnosed with cancer reality stepped in.  "During this time, Daddy told me and Ricky that he sure would love to drive that old 1940 in a Christmas parade one more time. We don't have a lot of money, but we started saving what we could."  
The car work started in late 2013 and was finished by September 2016. The coupe runs a Chevy 350/350 drivetrain and a Chevy rear end.
The engine of it is practically stock, with an old Fireball cam. Underneath is a 4-inch dropped straight axle with a Unisteer cross steering unit under it. "Daddy wouldn't let us take the straight axle out, so we had to make it fit the 4-inch drop. He loves that old-school bounce," said Mark.
"We painted it with single-stage polyurethane paint—and I still use a Binks Model 7 spray gun. Of course I had to do a lot of water sanding and buffing, but it turned out slick as glass. We cut some trailer fenders and mounted them as inner fenders underneath the rear fenders just to keep rocks from popping up that paint on the topside. The wire wheels are True Spokes that we had powdercoated. In the trunk we used old Chevrolet humpback trunk hinges for the door that hides the battery and the fuse box."
Mark and Ricky rebuilt the interior and did a great job; the dash is equipped with Dakota Digital gauges.
A monitor for the backup camera is hidden behind the chrome vent in the center of the dash. Vintage Air controls are mounted in the center console, which was built by Ricky.
The ignition switch, headlight switch, and cigarette lighter were swapped from a 1965 Mustang. Mrs. Smith from Pontotoc, Mississippi, upholstered the Toyota Supra seats and added the carpet and headliner.
The faith and strength of Jimmy along with a long road of medical treatments, led to his recovery. Just when the old man got better his car got better as well.
"He and Mama did get to drive the 1940 in our hometown Christmas parade with me in front of him and Ricky behind him on Harleys," Mark says. "To see our daddy get his wish was worth all the late nights working on the car. He has been going to car shows every time he hears of one and 'gosh doggit' (as he says) has been winning a trophy every time. We built this car for Daddy and Mama to drive every day, but he won't—scared he will scratch it."
We are glad this sweet young man will have a brand new favourite car.// hotrod.com