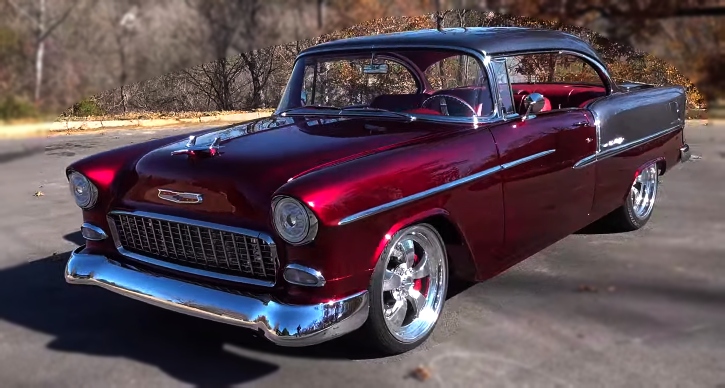 Two-Tone Beauty: '55 Chevy Custom Built With Great Attention To Detail, LS3 Engine and Magic Interior
Few cars are as recognizable in the world of custom hot rods as the 1955 Chevy. The 1955 Chevrolet has long been a favorite among auto aficionados thanks to its elegant lines and timeless appearance. We get a closer look at a magnificent custom '55 Chevrolet in this video from Steve Holcomb Pro Auto Custom Interiors, which is guaranteed to draw attention everywhere it goes.
The eye-catching two-tone paint job on this 1955 Chevrolet is the first thing you notice about it. A timeless and stylish color combination is medium grey over medium candy red. There are no overspray or uneven surfaces to be seen in the bespoke paint job, which was properly completed. The minute you see the automobile, you can see that every aspect was carefully considered.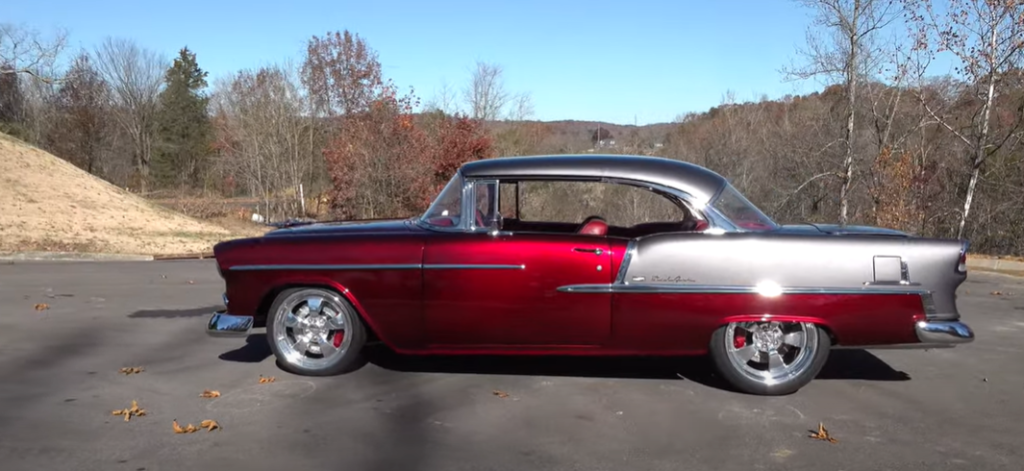 Yet the car's interior and appearance are equally amazing. The staff at Steve Holcomb Pro Auto Custom Interiors fully transformed the interior of the 1955 Chevrolet by covering every surface with maroon and grey leather that was color-matched. The end effect is a fashionable and comfy clean, modern appearance. The unique interior perfectly complements the car's design aesthetic.
Of course, a hot rod wouldn't be complete without the proper wheels. A set of wheels was selected by the team at Steve Holcomb Pro Auto Custom Interiors to properly match the rest of the project. Although the rims are a matter of personal taste and not everyone will concur as to what looks best, in this instance, they fit well.
The 1955 Chevrolet has a freshly fitted LS3 engine under the hood that provides it far more power than it would have had from the start. The LS3 power will reach the ground and the car will stop when necessary thanks to the most recent upgrades to the suspension and brakes.
Overall, this 1955 Chevrolet custom-built is a genuine work of art. Every part of the structure demonstrates the meticulous attention to detail and the excellent caliber of the workmanship. This 1955 Chevrolet is likely to wow whether you're a hot rod enthusiast or just enjoy a lovely automobile. It's a classic American hot rod that will remain stylish for a long time.
Watch the video below of this sweet stylish ride: