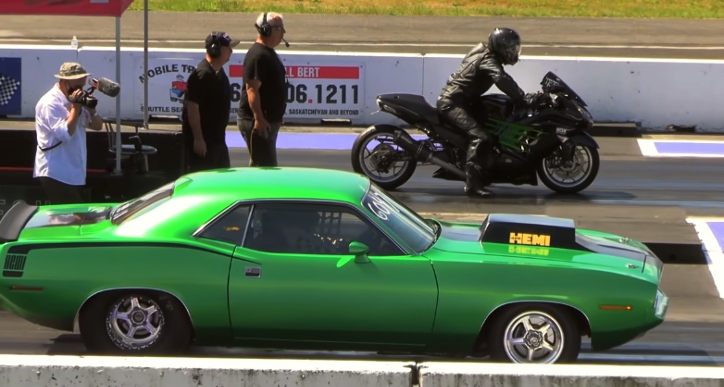 925-HP Plymouth Hemi Cuda Drag Races Suzuki GSX-R1000 – Do Muscle Car Can Beat a Motorcycle ?
I have watched this stout HEMI powered 1970 Plymouth Cuda drag racing at several 604 Street Legit events, and it is always a treat regardless of the outcome. Today you are going to see the Mopar running against couple of sportbikes.
The Plymouth HEMI Cuda jumped early on the first race, and got disqualified. That's why there was no time displayed for it. It spun the tires when it raced the second Kawasaki Ninja, but at the end you will see it making a 9.23@146mph pass.
Of course the bikes have a much better power to weight ratio, and will pretty much always win the acceleration game. Either way, for me it was fun watching the HEMI Cuda run down the track. I hope you will enjoy the Wheels video as well.
Source: Youtube/Wheels