This '56 Chevy Bel Air Looks Great & Runs Even Better, 2-door Hardtop Powered by a 383 V8 Small Block Engine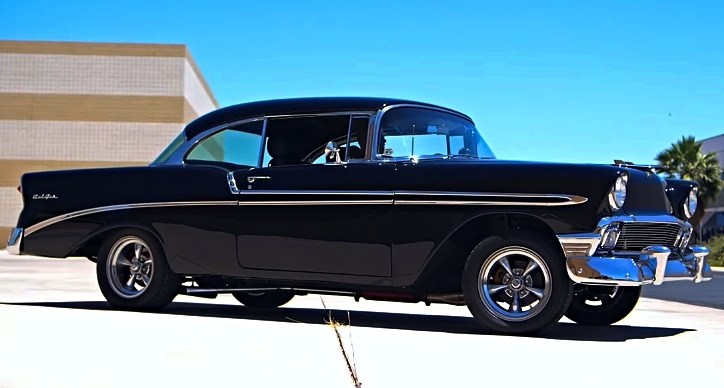 If you like the Tri-Five Chevrolet classics, this custom built '56 Chevy Bel Air will certainly impress you. It is built with no expense spared and great attention to detail. While enhancements are done all the way around, the car retains its iconic appearance, and most importantly it is no trailer queen, it is meant to be enjoyed.
The show quality Chameleon paint, perfect chrome and American Racing Mags make this '56 Chevy Bel Air a real eye candy. The interior is upgraded with nice buckets, custom headliner, and RPM gauges. The power comes from 383 small block topped with pair of 4-barrel carbs and mated to Tremec 5-speed with Hurst shift kit.
The 1956 Bel Air received a face-lift with a more conventional full-width grille, pleasing those customers who didn't favor the Ferrari-inspired '55 front end. Two-tone bodyside treatments and front and rear wheel openings completed the "speedline" restyling. Single housings incorporated the taillight, stoplight, and backup light, and the left one held the gas filler – an idea popularized on Cadillacs.
Check out this cool '56 Chevy Bel Air video:
Source: Mancave Artfactory