1976 Pontiac Trans Am 5-Speed Beautiful 455 Sound – Guaranteed To Turn Heads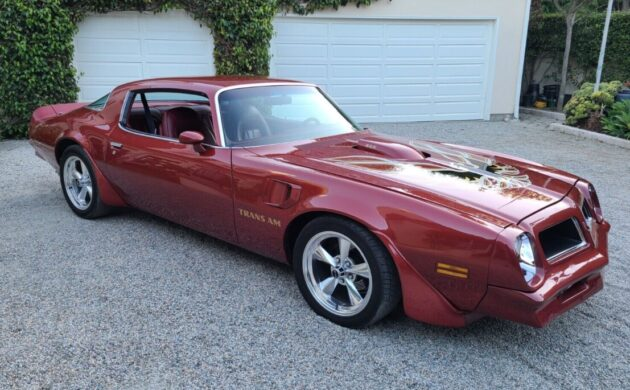 If I had to pick a favorite version of the Trans Am from a styling perspective, that honor would fall to the '76 model. The wrap-around rear window appeared in the previous year, but I think the nose treatment and grille design looks classy but suitably aggressive for a vehicle of this genre.
I am not alone in this thinking because 1976 also marked a sales record for the Trans Am. While overall Firebird sales were an impressive 110,775 vehicles, it was a year when 46,704 buyers paid the extra for the Trans Am version.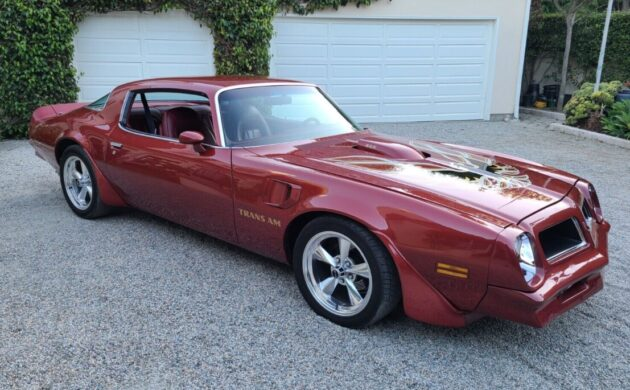 That improved by a significant margin on the previous year's total of 27,274. This Pontiac looks stunning in Firethorn Red. The paint holds an incredible depth of color and shine, and when combined with the traditional graphics and Screaming Chicken, it is guaranteed to turn heads. 
Lifting the hood reveals the numbers-matching 455ci V8 that would have packed 200hp in its prime. Pontiac only offered a four-speed manual with this motor in that model year, allowing the Trans Am to cover the ¼ mile in 16.4 seconds.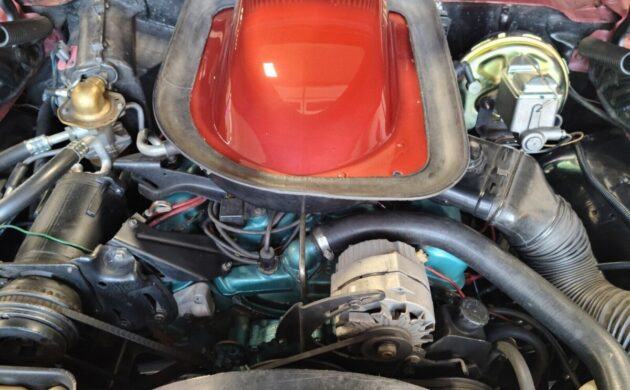 The original cylinder heads are ported and polished, and this TLC results in a power output of 404hp and a torque figure of 530 ft/lbs. There's no point in having a million horsepower if the car cannot apply it to the road. The original four-speed transmission sits in the shed, and a five-speed Tremec unit feeds the raging ponies to a 30-spline 3.73 Posi rear end.
That beautiful 455 sounds fantastic, with no smoke or odd noises. Once again, most of the changes made are reversible, with the seller including the original parts for those wishing to pursue that path.
The impressive presentation levels continue when we open the doors and inspect this Trans Am's interior. Apart from an upgraded stereo, it looks remarkably unmolested. The Red vinyl trim shows no evidence of wear, the dash and pad are excellent, while the beautiful machine-turned gauge fascia has avoided the common wear problems.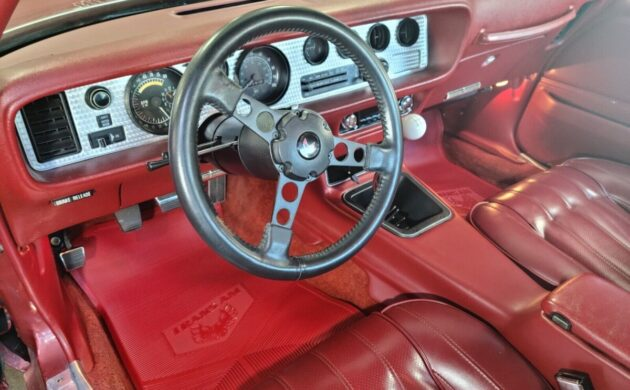 There is no crumbling plastic or signs of UV damage. It isn't loaded with factory options, but the inclusion of ice-cold air conditioning and a tilt wheel are welcome.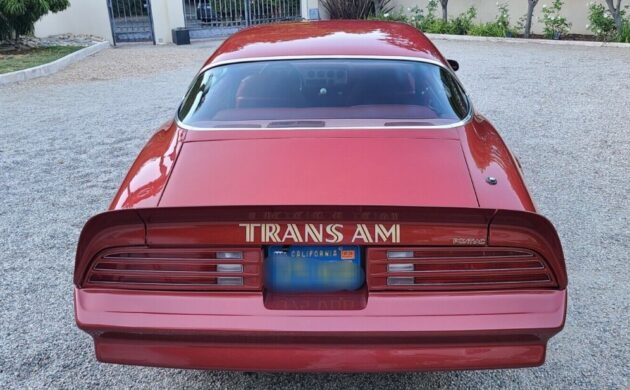 While it may not appeal to those seeking an original survivor, this 1976 Trans Am has struck a chord with a significant group of enthusiasts.
barnfind.com