805 HP 1970 Plymouth Cuda Right Hand Drive – Stunning Engine Sound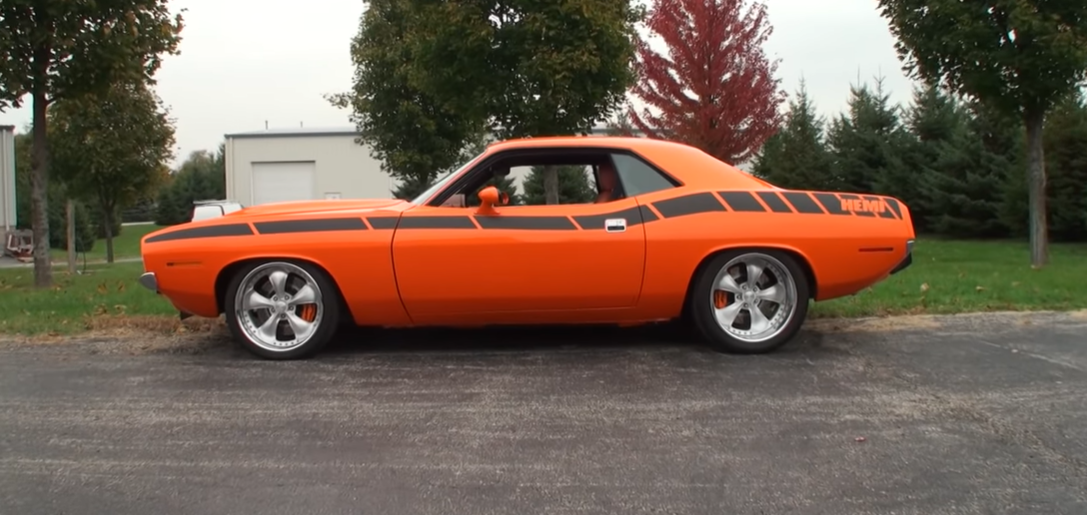 We're looking at a Custom 1970 Plymouth Cuda Restomod in Pearl Orange Metallic Paint & 426 Hemi Engine with 805 Horsepower.  Jeff shares the car took two years to build and this amazing 'Cuda still has all the looks of a 1970 'Cuda, however, this one has all new parts and is a modern road ready race car.
Many old school Mopar fans love the iconic Plymouth muscle cars restored to their original glory and I totally understand that. But at the same time a high end custom built 1970 Plymouth HEMI Cuda in beautiful Orange Pearl Metallic paint like this one makes my knees go weak and even if you are not into restomods this one is worth taking a look at.
The original 1970 HEMI Cuda body style is well retained with AAR hood added and that's where the stock ends. Everything else from the special Schwartz Performance chassis, 3-piece modular Foose wheels, stunning full custom two tone interior, 805 horsepower Magnuson supercharged new generation HEMI V8 engine and the remaining performance upgrades tells us one thing: this Orange 1970 Plymouth HEMI Cuda restomod is work of art.
Take a look at this beauty:
Source: Youtube/Lou Costabile