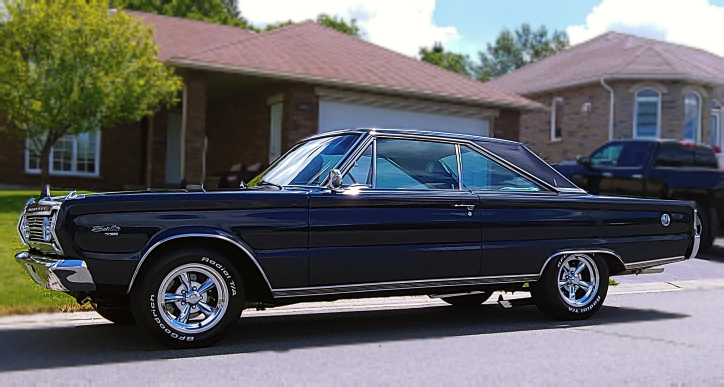 " 40Years Later I own Once Again My Dream Car – 1966 Plymouth Satellite 500 Stroker 5-Speed "
Brian (the owner of this ride) has been into muscle cars since very early age.
His father was a great mechanic and built a 4-speed '74 Firebird for him when Brian was just 11-years old. Sadly, after having fun with that hot rod for 5 years, he wrecked it. His love for old school American muscle did not end with that car, and 40 years later, the 1966 Plymouth Satellite became Brian's new toy.
He has the 1966 Plymouth Satellite for about 3 years. It just happened to be in his neighborhood and in the budget. Brian swapped the factory 318 engine with a 440 Big Block stroked out to 500 cubes and paired it with a Tremec 5-speed tranny and 3.73 geared rear end. Dynoed at 525hp and 580lb-ft, the Mopar is plenty of fun with the stick shift.
The 500 Mopar stroker has MSD ignition, and is dressed with Eagle forged crank, Comp Cams high performance roller cam, Manley Moly push rods, Mahle forged pistons, and Edelbrock aluminum intake. The 1966 Plymouth Satellite came with a FiTech throttle body, but Brian couldn't get it to work properly and put on AVS2 800 CFM Edelbrock carb.
Hedman headers and Flowmaster exhaust deliver the rowdy 1966 Plymouth Satellite 500 Big Block V8 sound. The car has Hotchkis sway bars and traction bars in terms of suspension upgrades. It stops pretty good with Wilwood disc brakes on all 4 corners, while power steering and air conditioning helps for a more enjoyable ride in comfort.
Brian's 1966 Plymouth Satellite is not a show piece, but a very nice driver car for the summer months. He is considering some body work and paint, but the cost is way too high at the moment, and the two Triumph bikes he is playing with also require funding. The Mopar looks pretty good at 100mph, so there is no rush with the exterior resto, shares Brian.
Source: Youtube/Hot American Cars