The World's Fastest 1,300 HP Hearse Does 1/4 Mile In 9 Seconds!!!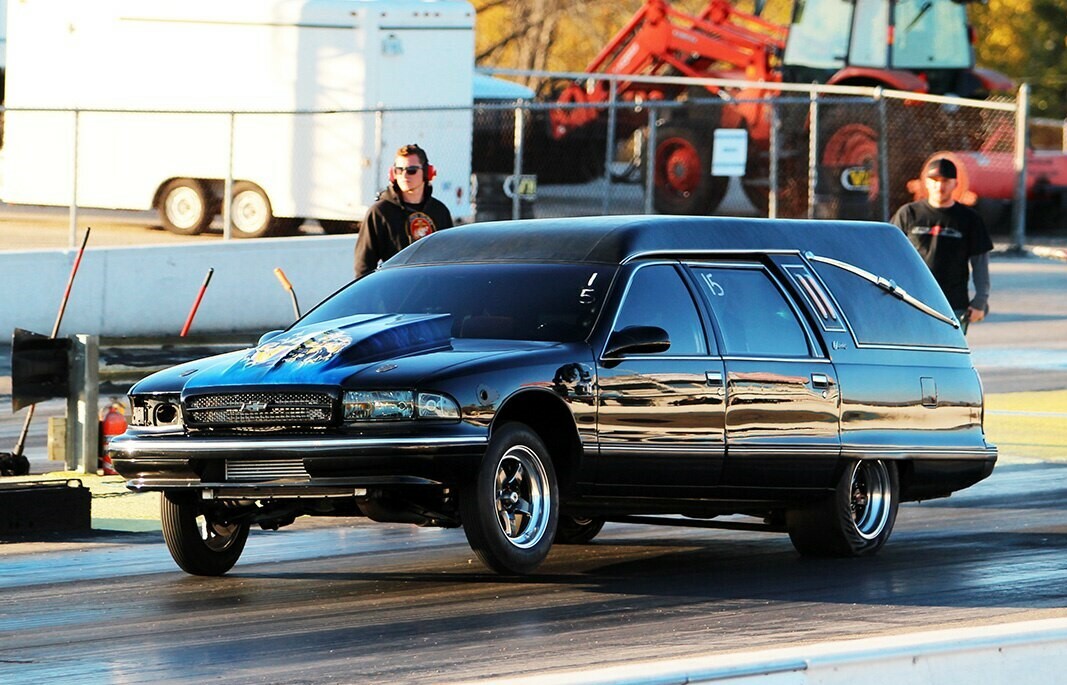 From the beginning I knew I was going to make this a tribute to my favorite Metal Band, Iron Maiden. Since I was 8 years old back in 1983 they have been my favorite band and I always incorporate some sort of Maiden livery on all of my cars. This project however was going to be a tribute to those Metal Gods. I named the car "Madness" after one of my favorite Maiden songs, "Can I Play With Madness".
The first thing I did to the Hearse was add an Impala SS grill and 4″ cowl induction hood. My Ese, "El Mago", over at HQ Kustoms air brushed a sick Iron Maiden mural on the hood. He said I was officially the first Gringo he knows to have a mural on his hood. I was honored. LOL.  While I made plans for the Hearse I pimped it around on some chessey 20″ rims and the anemic LT-1 for a few months.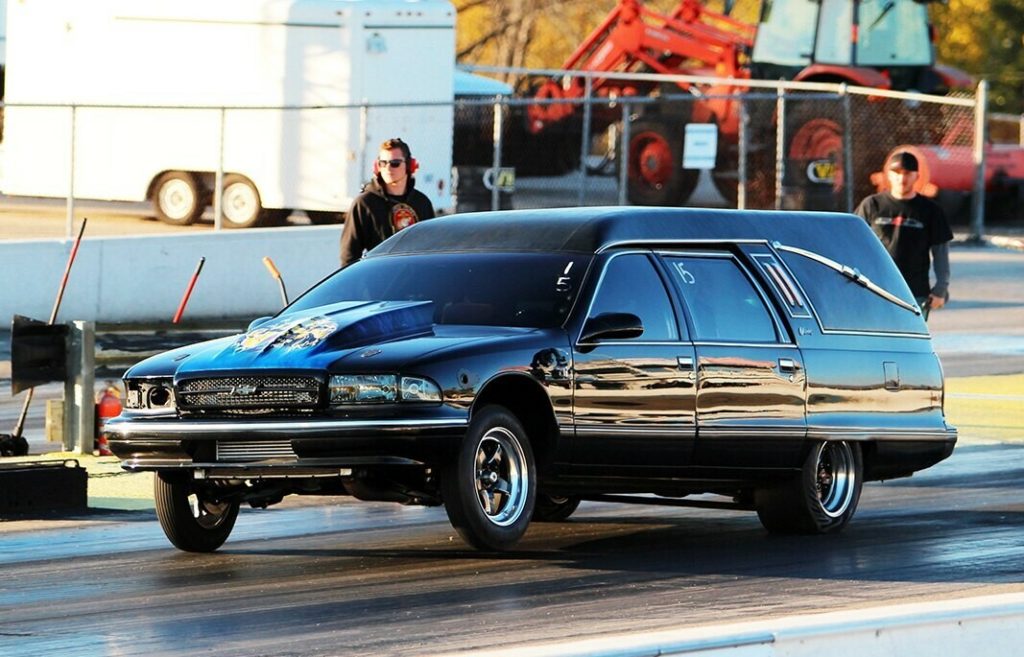 The first thought I had was to use a Duramax diesel to power my Hearse. Technology has come a long way since the 7.3 Powerstroke I modded to power our old, 13 second, 1999 Ford Van tow vehicle. I figured the torque of a diesel would be good to get this monster rolling.
After buying a used Duramax diesel off eBay I began to realize that an engine this heavy would really limit what I could do with the Hearse. Weighing in at 840 lbs. this engine would not allow me to road race the Hearse limiting me to straight line racing only (don't laugh, I do plan on taking it on a road course someday).  After discussing my dilemma with my business partner, Martin, he suggested that a LS based Chevy V-8 with a turbo should do the trick and would allow me to have a more versatile Hearse.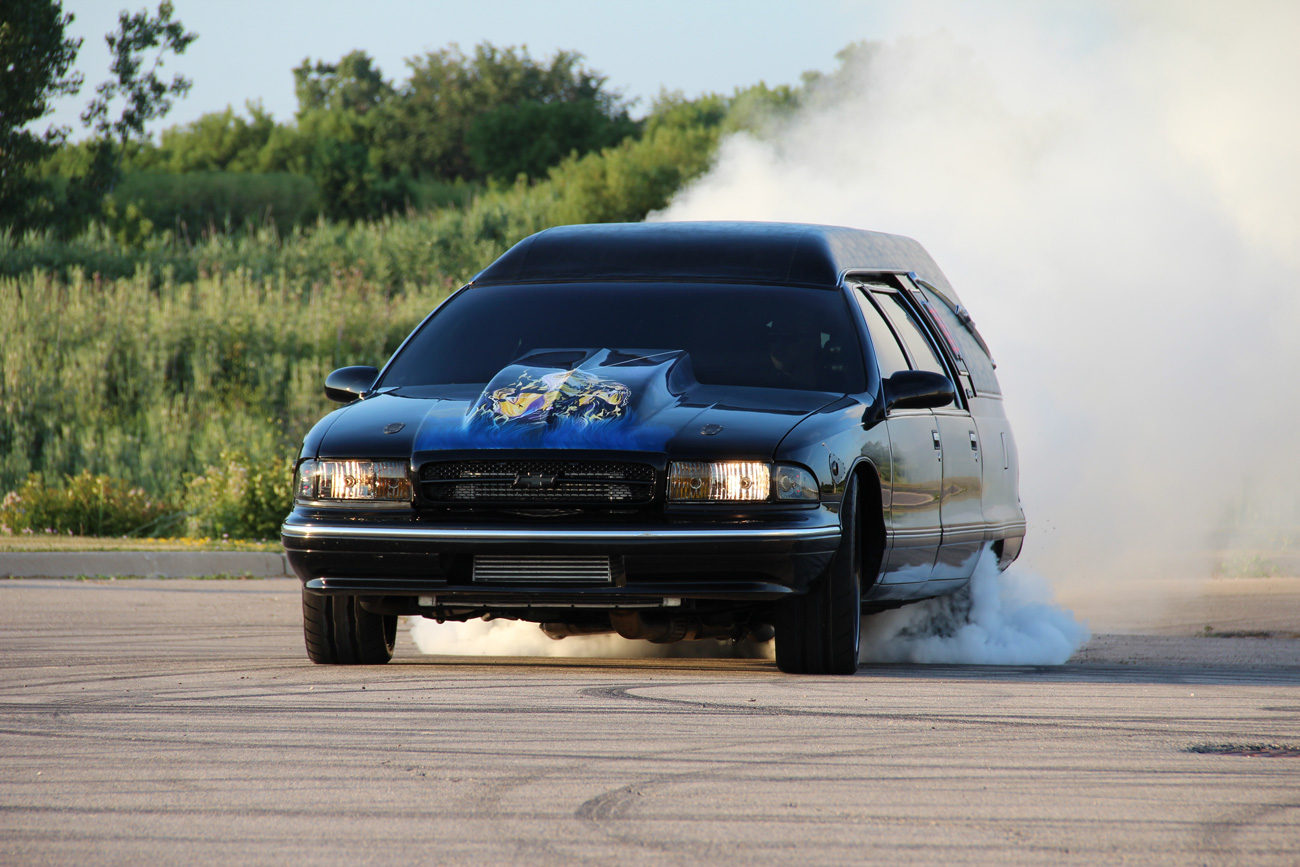 With a new plan in place I sourced an LQ4 6.0 Chevy V-8 complete with 4L85e transmission and wire harness from a 2006 Chevy Van. This seems like a much better choice and far less expensive than my original idea. I kept it simple just adding new metal head gaskets, headstuds and a cam and valve springs to the stock engine.
This project took longer than expected because we would only pick away at it in our downtime.  Shane Smith, the lead fabricator on the project, spent his spare time sorting out the turbo and intercooler system and other aspects of fabrication for the project.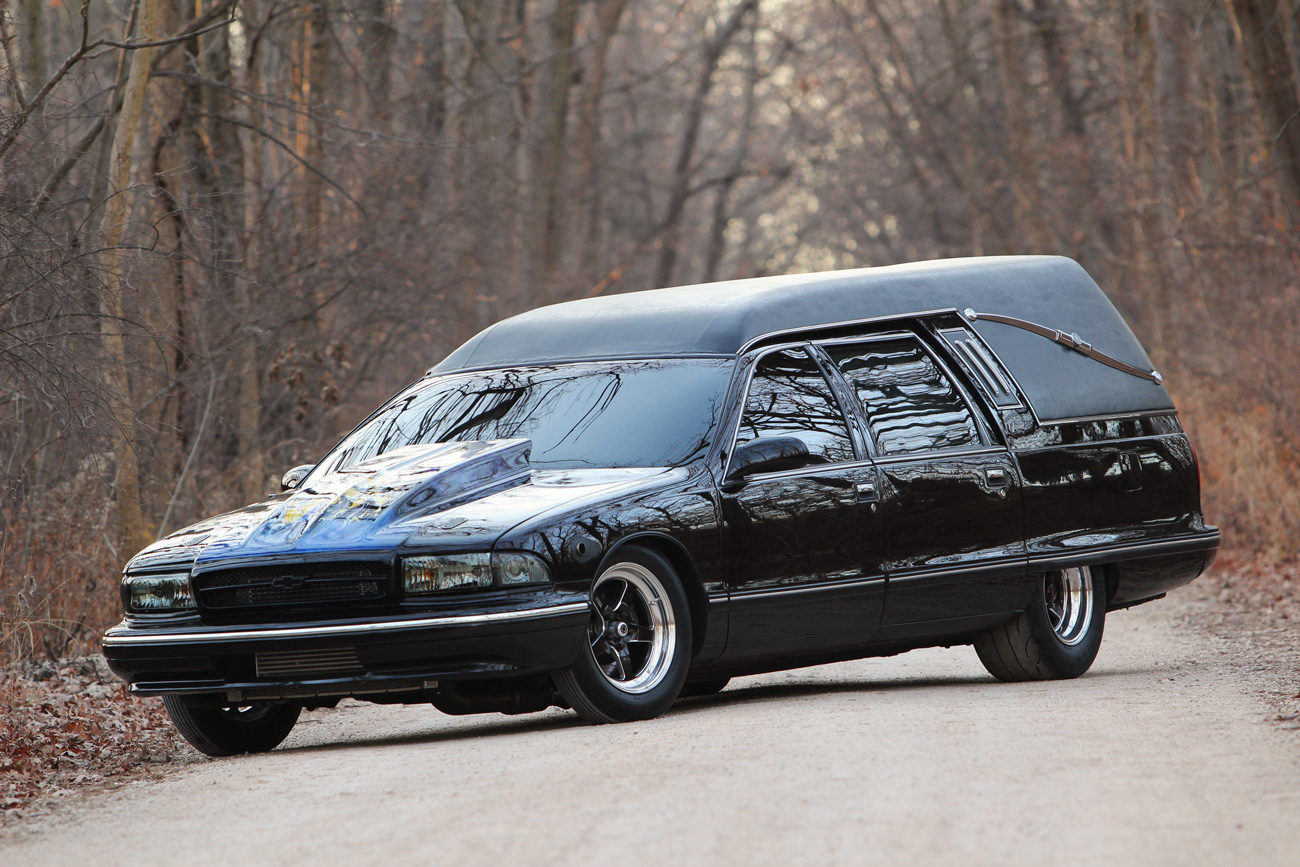 In 2011 when LS engine experts Larry Hamilton and Lance Cain joined the AMS team is when things really started to take shape. Progress was still slow because their great ideas and attention to detail added to the complexity of the car as they saw new ways to make the car even more unique than the typical LS turbo swap. We were still doing things in our downtime but that gave us time to really ponder how we were going to put it all together.
In the end, the Hearse has exceeded every expectation I had. The car has performed flawlessly on every outing. I actually broke the world record with an 11.5 @ 117mph on pump gas on the cars maiden (pun intended) voyage to the track in late 2012 simply doing initial shakedowns. On our second outing with an E98/Shell URT blend tune, Chris Black, the lead Calibrator at AMS, crept up on the tune up allowing us to shatter our own record to a new best of 10.7 @ 127 off the foot brake.
h/t: www.arnesantics.com
Youtube/AMS Performance