Father and Son Duo Driving in The 1972 Nova When a Deer Chose Their Grille as its Final Resting Spot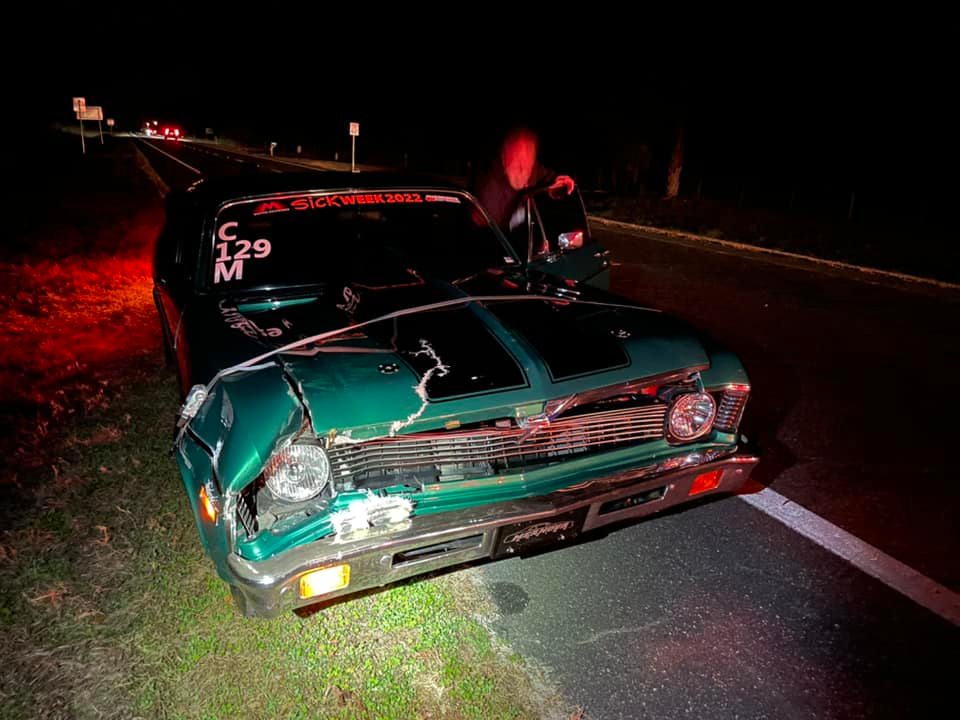 From on-track crashes to the myriad of potential mechanical woes, there are an untold number of ways that a week-long drag-and-drive tour can be derailed. And when you're physically driving your car from place to place, the innate obstacles on the roadway itself play a role in whether or not you make it to starting line in a way that traditional drag racing with a truck and a trailer do not.
But Illinois native Michael Pryka and his son Mike added another line to the annals of drag-and-drive treachery this week when they committed some steel-on-mammal crime with their sweet 10-second '72 Chevy Nova.
The father and son duo (with son at the wheel) were en route from Gainesville, Florida to Adel, Georgia for day four of Sick Week, and were about an hour from the South Georgia Motorsports Park when a deer chose their grille as its final resting spot.
"We were just cruising along at about 60, 65 miles per hour, and then 'boom,' the deer came from the left side of the road crossing over toward the passenger side. I saw the deer for a split second and then the impact and then the hood flew up. I had to steer the car off the road with the little window I had under the hood. That was at 8 p.m. We pulled off and checked it out and found the radiator and fan were pushed all the way into the electric water pump. Both the water hoses were still attached, just kinked.
"We closed the hood and ratcheted it down and headed to a Shell station just up the road. From there we all decided we would try to get the core support/radiator/fan off the motor. So we used the gas station pole with a ratchet strap to pull out the bent stuff.
We got that somewhat back in alignment, then wired in the extra fan we had. We added in three bottles of radiator stop-leak and made sure it wasn't leaking. An hour and 30 minutes later we were ready to head to the checkpoint, which was only a block away. We finished the rest of the route to the hotel, about 95 miles, in an hour and 45 minutes. No leaks and it didn't get any hotter then 155-degrees."
Source: Narxoleptic Customs