707-HP Hellcat-Powered Pro Touring 1970 Plymouth 'Cuda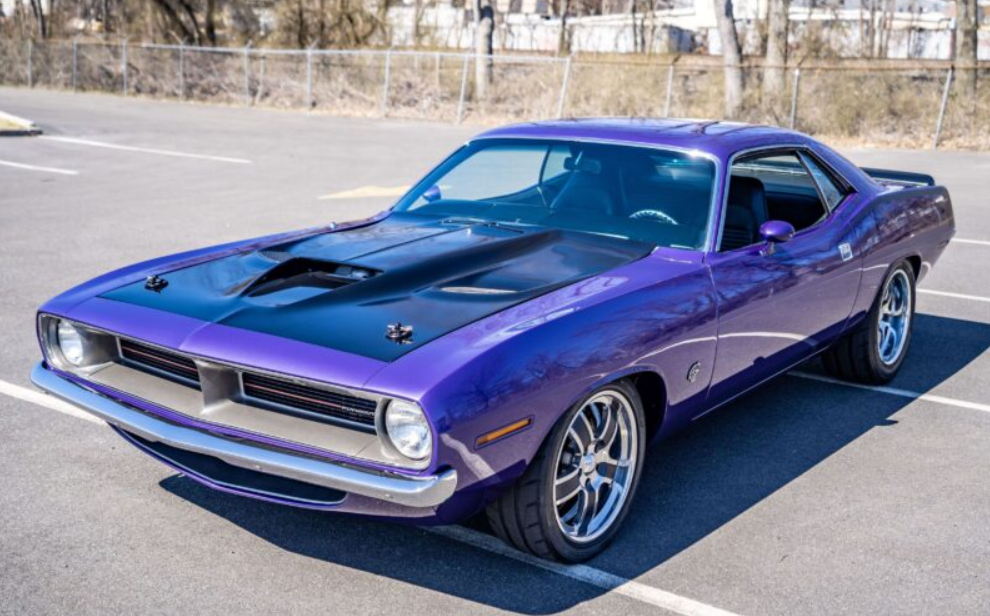 Voices said that they don't build these vehicles like they did in the old days but in the good old days they didn't have the 707-horsepower supercharged Gen III Hemi Hellcat engine.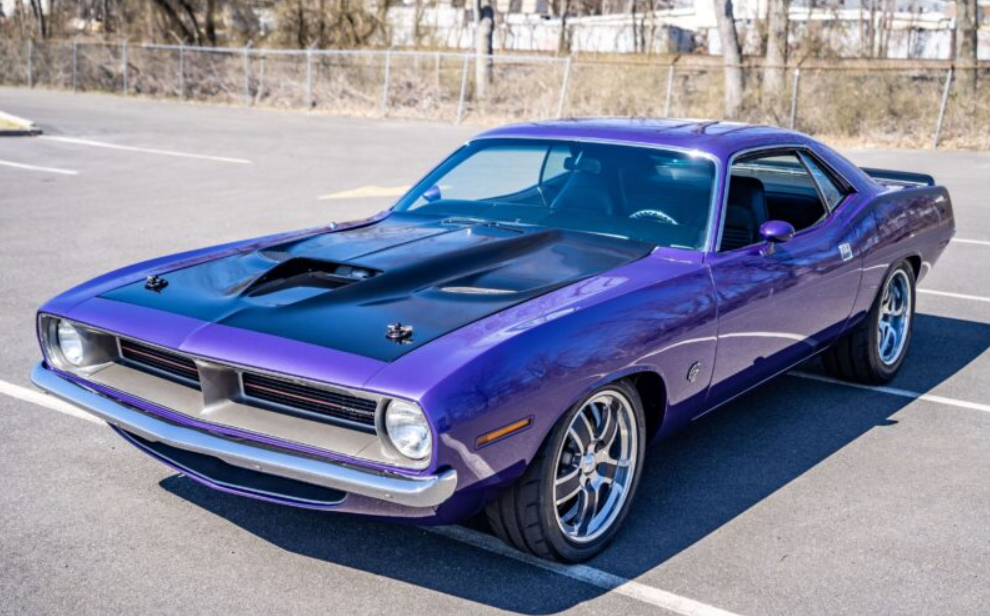 When it gets transplanted into a classic Mopar, like this 1970 Plymouth 'Cuda, the good old days get smacked down with a wallop from the fuel-injected future. The thoroughly modern Pro Touring car, with a six-speed transmission and contemporary coilover suspension, offers an ideal blend of yesterday's classic style and the incomparable performance capability of today's technology. According to the selling dealer this is a fresh build, with only 529 miles since it was completed.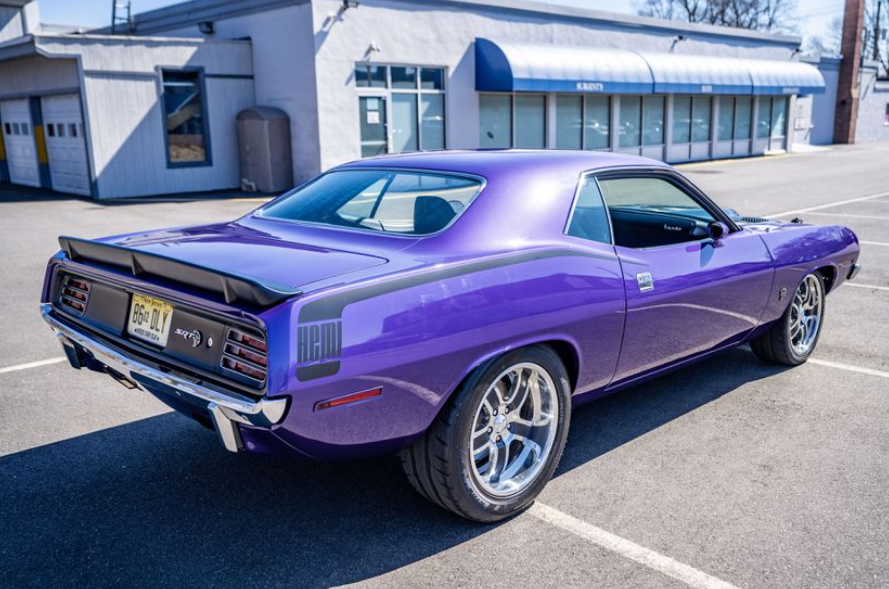 POWERTRAIN
Under the AAR-style hood we have a Hellcat crate engine system, a supercharged 6.2-liter Gen III Hemi V-8 that's rated at 707 horsepower and 650 neck-tugging lb-ft of torque. This is used with Chrysler's control system and front-end accessory drive kit, with a custom exhaust system featuring long-tube headers and a custom cooling system. The seller reports that there are no issues with the essentially brand-new powertrain, with only 529 miles on it, and has no leaks. The engine is complemented with a Tremec six-speed manual transmission and a Dana 60 rear axle.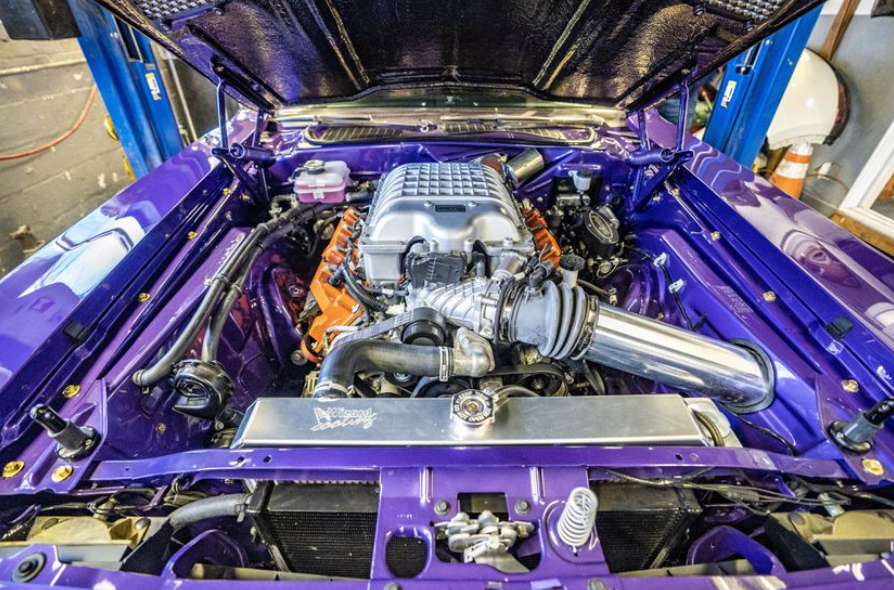 EXTERIOR
In the powertrain we have a more modern touch, this 'Cuda's exterior retains the classic look, with the modified AAR-style hood, painted black and featuring additional late-model-style vents, complementing the contemporary interpretation of the vintage Plum Crazy on the rest of the body. We also have a prominent rear spoiler and vintage Hemi hockey-stick stripes.
The overall effect of blending vintage elements with the contemporary, includes a set of 18-inch Boze wheels, appears to be very well integrated. The paintwork is said to be in "show" condition, with no rust or blemishes, while the other exterior elements, such as the glass and seals, are reported to be in an awesome "like new" condition.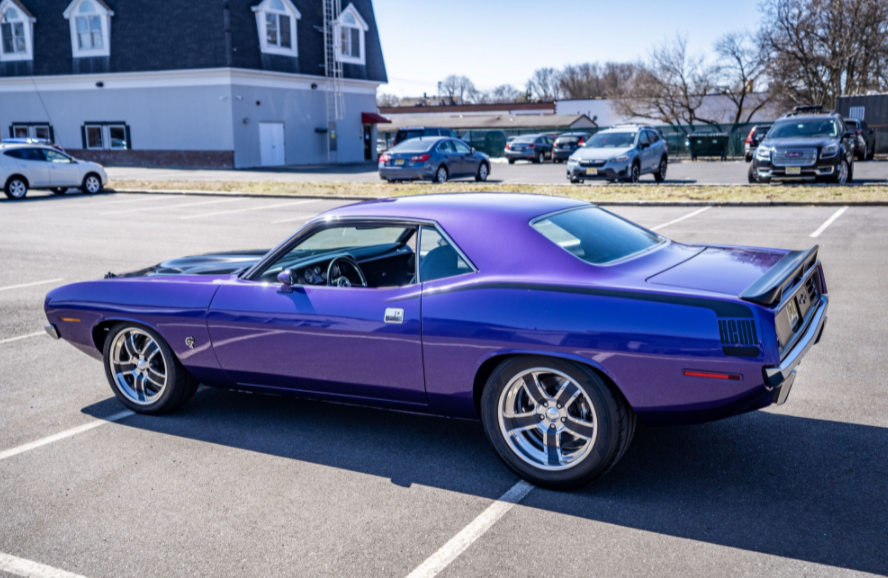 INTERIOR
From the inside of this 'Cuda's cockpit we also appear to mix today and yesterday, with modern gauges set in a stock dashboard and complemented with stock-appearing vinyl bucket seats. The Auto Meter gauges are installed in a custom, carbon fiber-trimmed insert. There are more carbon fiber accents on the classic pistol grip shifter and a Billet Specialties steering wheel. The gauges are believed to be functional and all of the interior trim is said to be intact.
The late-model Hemi powertrain's control system is mounted inside the car, below the passenger's side of the dashboard. The carpet and headliner were reportedly replaced during the build and it's said to be in "like new" condition.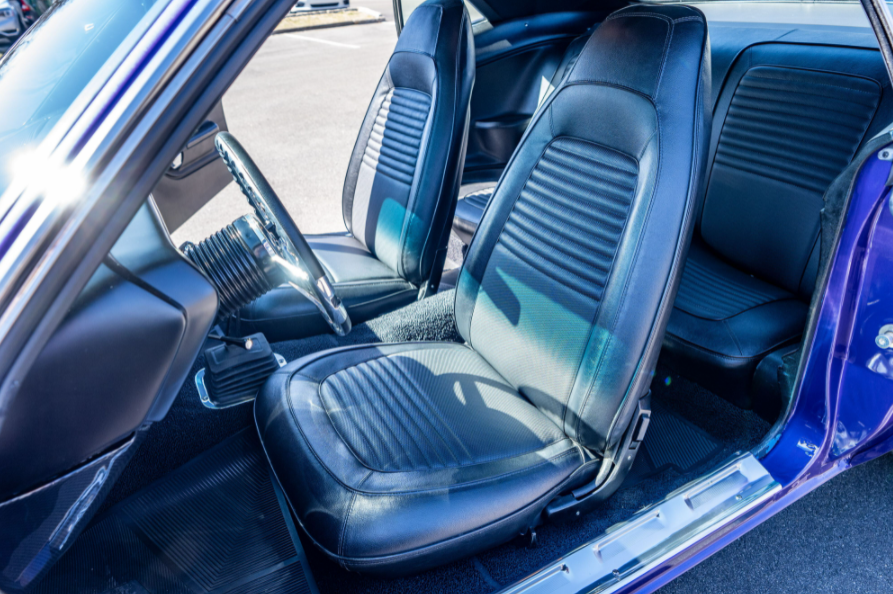 CHASSIS
The chassis, suspension, and brake systems are reported to have been comprehensively revamped in order to support the engine transplant and add a more contemporary and responsive driving experience. The upgrades included a Reilly Motorsports front subframe with coilovers and rack-and-pinion steering, along with a Reilly Motorsports Street Lynx rear four-link setup with coilovers. There's also a Wilwood four-wheel-disc brake system. With only 529 miles on the build, the upgrades are virtually new, with no reported issues or needs. The car rolls on 18-inch Boze aluminum wheels additionally, wrapped with Nitto rubber measuring 245/40ZR18 in front and 295/45ZR18 in the rear.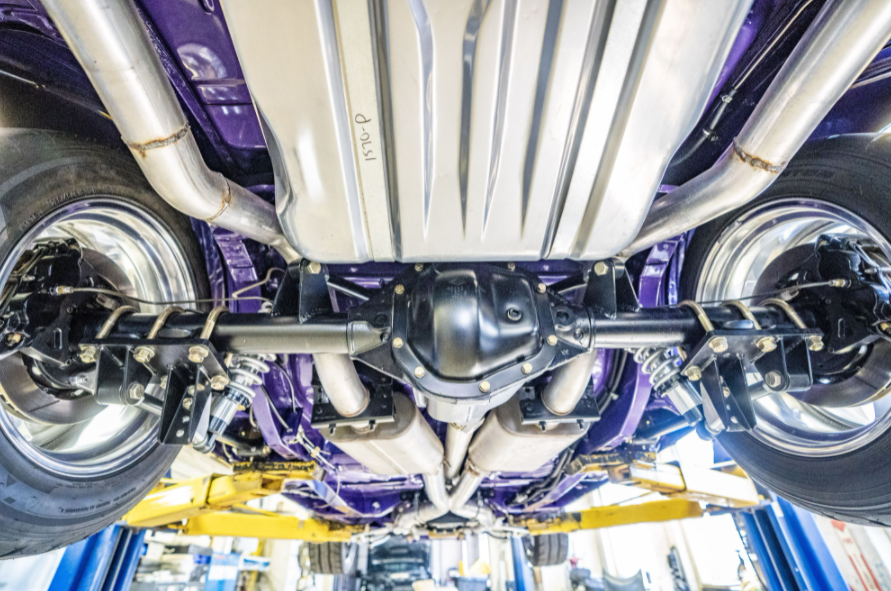 DOCUMENTATION
This car will be sold on a clean New Jersey title that was provided by the selling dealer. Additional documentation for this 1970 Plymouth 'Cuda Pro Touring includes the factory stampings, and the fender tag as well, showing it was originally a 318-powered car.
Having a very few miles since the car was completed, this comprehensively modified Mopar appears to exemplify the very best of the Pro Touring and restomod trends, where vintage style is complemented with modern powertrain and suspension components—and with its "Hellcat" supercharged engine, takes the performance that was simply unimagined in the good old days.