One Fine Ford: 1966 Ford Fairlane 500 Convertible
This car features a B&M shifter with a shift kit as well as a TCI 1,800 stall converter. 
Its Upgrades included new springs all around, brake lines and various parts from JEGS High Performance and Summit Racing. Dearborn Classics (rack and pinion steering) made the job of going down the road much easier than anything offered stock in 1966.
 A 1998 Mustang 8.8 posi rear with disc brakes got found and installed with '70 Merc front discs to help it stop. The Candy Apple Red Ford color  from the 60's (by Dupont) suited the vehicle.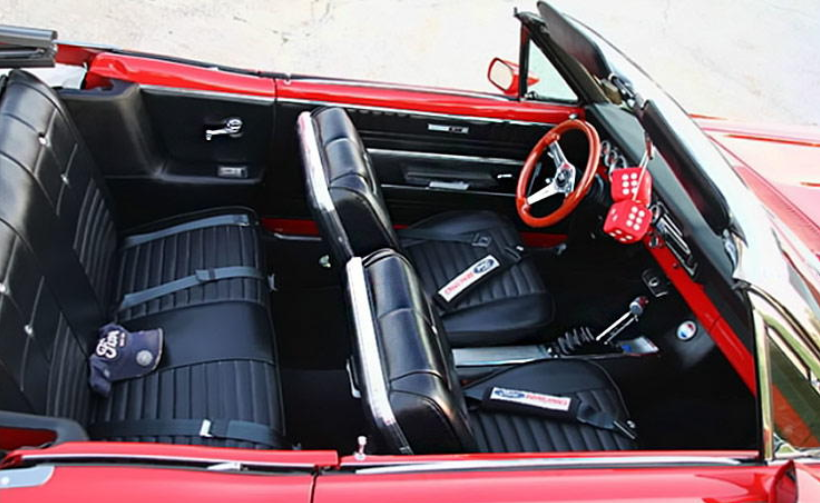 This was a factory color for the '66 Fairlane, but not necessarily this car, which was a clean slate for James and Janet.
The GTA details and looks were likeable for James and he added all the various badges and trim.
The famous 427 S/S fiberglass hood that was available from Ford for the '66-67 Fairlanes as the "cherry" on top was one of his choices.
The engine makes all the beautiful music one could ask for, but the new owners wanted their favorite songs from time to time so  they added an Alpine CD in-dash unit with a JBL amplifier and Blaupunkt subwoofers with Pioneer three-inch speakers in the kick panels.
The labor of love that is this '66 Fairlane is the latest chapter in the special they are putting together.
Janet and James have lived nearly all their lives here in Florida, but like many Florida residents, they are not native here.
James was born in Kentucky, and moved to Florida with his parents when he was very young. Janet settled here from Michigan when she was only 9 years old. They met while in high school, got married and have one daughter.
For them is a regular occurrence cruising to all the local car shows so it was only natural that they joined a local car club.
Their choice was the Tropical Detroit Muscle Car Club, which features all American made cars and has more than 400 members on its rolls.
To build the Fairlane it was a commitment to them, work memories won't fade and this labour was such a love labour, this was so important to them that James got Fairlane tattooed on his leg!
It wasn't a surprise that the Fairlane has become a trophy magnet.
It won "Best Fairlane" at the 20th anniversary NPD Ford and Mustang Roundup at Silver Springs (Florida) in 2014.
The Trophies will continue to come, but the hours of enjoyment with the car have long begun to offset the hours of labor put into it. This is truly a worthwhile accomplishment, one that will inspire others to take a chance on a forgotten classic vehicle.
Source: www.throttlextreme.com